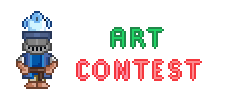 Hey everyone! It's time for another art contest!
This art contest's theme is Game Worlds!
So, make something related to Ball Race, Minigolf, Little Crusaders, Zombie Massacre, Accelerate, and/or Virus!
Entries are allowed until May 29th, 2023 at 11:59PM CT.
Be sure to check out the prizes and follow the rules below!
Prizes
1st Place - 1,000,000 Units
2nd Place - 750,000 Units
3rd Place - 500,000 Units
Prizes may be raised, and we also award participation prizes!
Rules
Only submit one post with one artwork.
Submissions must be related to Tower Unite Game Worlds.
Keep it appropriate - no nudity, hate speech, etc.
You can submit a digital or traditional drawing, a video, 3D model, an animation, etc.
You can include multiple pictures of the same artwork in a submission.
Your entry must be something new and from scratch - you can't submit something you started before this post was made.
Winners will be decided by a community vote!
How to Submit:
Post your entry in this thread! If you can't upload images, use an external image hosting service such as Imgur to embed the images here.

Include your Steam ID with your submission so we can reward you with the units if you win!
Past Art Contests:
If you have any questions, send me a private message or ask in this post!