Hello everyone, and welcome to the Weekly Dev Log for October 31st, 2022, detailing all the changes that have happened since October 24th, 2022. Note: Devs that don't appear in the weekly log are not necessarily away or not doing work, but may be working on things currently not announced or backend work that doesn't need to be detailed.
Accessibility Suggestions
We've created a forum post asking the community for suggestions on how we can improve gameplay for players with certain conditions such as colorblindness, dyslexia, or anything else that might affect a players ability to use the standard presentation and controls of the game.
If you have any ideas or suggestions, and possible solutions on how to solve a particular issue, please check out the forum post here.
October 2022 Condo Contest OVER
Thanks again to everyone who participated in the vote.
There were 130 responses this time, and votes were very spread out between participants!
The winners of the community vote are:
1st Place - @medai, Lolo-Chan, Nykane Mundoe, CorpseCutieDana
2nd Place - @Baby_In_A_Pipe
3rd Place - @Tut.exe
4th Place - @Assault
Because the vote was so spread out this time, and there were so many amazing entries, we wanted to highlight some of the exceptional Condos that didn't place in the community vote.
These highlighted condo builders will receive 400,000 Units in addition to the 100,000 Unit participation prize.
The staff highlights include:
For Theming:
@CalculatorSpoon - Abducted
For Storytelling:
@Frasler - Fyrstaden
For Unique Gameplay:
@fruzstrated - The Midnight Faire
Honorable Mentions:
@TheGreenKing - Horror Towers
@GoopGoop - Castle Pixelwick
You can read all of the entries submitted for this contest here.
Halloween
We're working hard on getting "Dark Voyage", the shooting interactive dark ride, ready for release.
@Johanna continued working on getting the Plaza setup and ready for "Dark Voyage".
@macdguy continued working on "Dark Voyage". He finished adding targets and events to the Western and Hell sections, while continuing to work on the Mansion section. He also worked on finishing the gameplay logic, the game coordinator, along with designing sound ambience / musical events in the ride.
@Madmijk continued working on "Dark Voyage", finishing the cart logic and other related tasks.
@Nuclearxpotato worked on adding more Halloween items.
@Wheezwer continued working on signage for "Dark Voyage".
@Will worked on music and sounds for "Dark Voyage".
Halloween: Spikeboard Item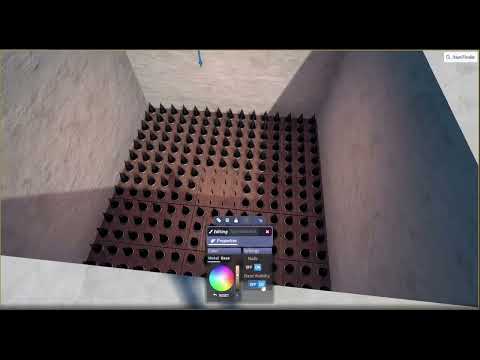 Halloween: More Items WIP
Miscellany
@joshua continued working on the new Plaza Store NPCs, working on the Electronics Store NPC.
@Lifeless continued working on game world maps.
@macdguy fixed some bugs and continued working on VR support.
@Nuclearxpotato continued working on the Virus map, Altar.
@Sketchman worked on backend improvements and fixes.
@Wheezwer worked on UI icons for the emotes.
@Will continued working on music and sounds for SDNL.
Emote UI Icons WIP
Electronics Store NPC WIP
Wrap It Up
That about covers everything that happened since October 24th, 2022 at PixelTail Games.
---
Join our Discord for development updates and community fun!
https://discord.gg/pixeltail
We love awesome people like you!
We're also active on Twitter!
https://twitter.com/PixelTailGames
Follow our developments on our Trello in near real-time:
https://trello.com/b/6BwRMiPw/tower-unite-roadmap
Take a peek at what's being worked on every week in our weekly dev logs! There's bound to be something interesting every week!
https://forums.pixeltailgames.com/c/devupdates/weekly-dev-logs
Please report bugs & submit suggestions on our forums. We're active everyday & here to help.
For bug reports: https://forums.pixeltailgames.com/c/bug-report/18
For suggestions: https://forums.pixeltailgames.com/c/suggestions/7



<3 PixelTail Games