Weekly Dev Log for March 23rd, 2020
Hello everyone, and welcome to the Weekly Dev Log for March 23rd, 2020, detailing all the changes that have happened since March 16th, 2020. Note: Devs that don't appear in the weekly log are not necessarily away or not doing work, but may be working on things currently not announced or backend work that doesn't need to be detailed.
Update 0.8.9.0 & Hotfix 0.8.9.1
Last week, we released Update 0.8.9.0 which included an upgraded version of Tower Unite now running on Unreal Engine 4.20, and packed with bug fixes, optimizations, and the new Minigolf map, Island. In addition, we released Hotfix 0.8.9.1 which addressed some minor issues that cropped up.
You can read about what was in Update 0.8.9.0 here, and what was in Hotfix 0.8.9.1 here.
Arcade Progress
Now that the Engine Migration is release, we're working exclusively on the Arcade as fast as we can, so we can get Arcade - Phase 1 released to you guys.
@Johanna continued working on Art for the Arcade.
@macdguy worked implementing gameplay improvements for "Avalanche" and "Whirl-a-Fish", as well as working on the backend support for the Tickets. He also started making some final touches on various Arcade machines, and creating Ticket prices for the various Arcade Prizes.
@Wheezwer continued working on art for "The Day the Corn Stood Still" and "Quick Service", while also creating design art for the Arcade NPCs.
@Will worked on music for the Arcade trailer.
Arcade: Avalanche Improvements
Arcade: Whirl-a-fish Improvements
Arcade: Newton's Apples Score Card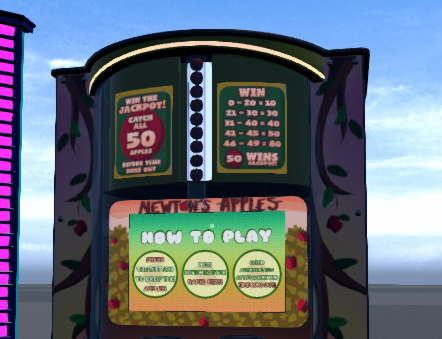 Arcade: Quick Service Art
Miscellany
@JJosh started working on designs for Accelerate Karts.
@ThisIsntNath, @macdguy, and @Will started working on the trailer for Arcade.
@Sketchman worked on fixing issues with the Workshop Materials, fixing the Translucent Materials. He also fixed a crash relating to Workshop Models with garbage materials. He worked on stabilizing listen server connections, fixed several client and server crashes, and worked on the achievement icons for Minigolf: Island.
Wrap It Up
That about covers everything that happened since March 16th, 2020 at PixelTail Games. This log was a bit short as most of the time last week was spent releasing the update and hotfix. See you all next week!