Ideas for a new Gamemode!
Earlier today I was in the gamemodes area of the Lobby and I noticed (as many others may have noticed) that there is still a spare gamemode port.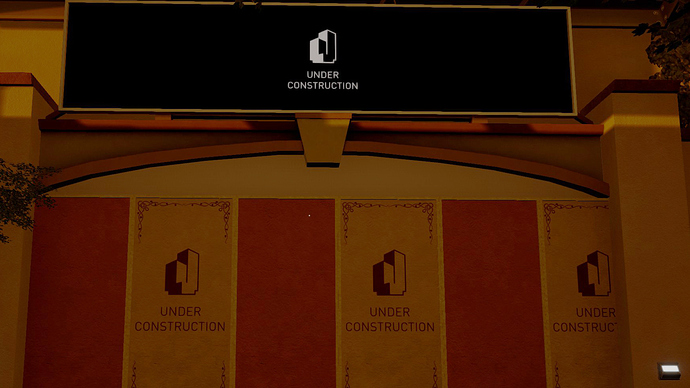 And I remembered that in the Indiegogo campaign there was a Stretch Goal for a 'Community Pick' for a game. I'm not sure if this is a related to the Bowling, Bumper Cards, Laser Tag, etc games or a new Gamemode entirely, so I decided to make this thread for people to share new ideas on Gamemodes or add on to other ideas!
Note: I'm not sure if this has been done before, and I'm too lazy to check if it has.
Thank you for understanding.

Anyways! I'll start us off!
Cookie's Suggestion:
I was planning an Elevator: Source based gamemode in which multiple players go through randomized obstacles within an elevator. What I was planning for this to be more different is if the events players go through on the floors they arrive on are much more player-interactive, that way it is worth actually earning units from it.
For Example! Players arrive at a floor which is infested by zombies and the only way to make it out alive is to pick up a sword and fight your way through the zombies to get to an elevator that is on the other side of the room!
Killing a certain amount of zombies could be worth 8 units each and making it to the other side of the room could be 100 units!
However, that is just my silly idea.

During a game the players could go through about 12 or more floors before returning to the lobby.
Blasphemous' Suggestion:
Recreate Monotone (the gamemode during Lobby 1 that never got finished)
Cakemagic's Previously Suggested Suggestion:
They do have a lot on their plates at the moment, but if I could… I still still still think that a SSX Tricky gamemode would be absolutely stellar. It would fit perfectly with Tower's aesthetic, being silly and fun and totally not realistic, and it's some high-octane fun that everyone enjoyed as a child.
TheWalkingToast's Suggestion
Illuminati race its like ball race just with more you know illuminati (and you are a triangle)
ProcopiousJones' Suggestion
I've actually been talking with @computerman about an idea for a gamemode, and while this idea is currently incomplete, it still has basics and some details so I'll post it here. Basically, both of us have wanted more gamemodes that are either Player Vs. Environment or 1 Vs. All as the only gamemodes in GMT/TU that are like that are Zombie Massacre and UCH/Tiny Crusaders. So the basic concept that we came up with was "Non-Linear Deathrun" which also tries to tackle with some of the problems that I've had with Deathrun personally.
The gamemode is 1 Vs. All with a minimum of 5 players

One player at the beginning of each round is randomly selected to be the Daemon (The one who places and arms the traps) and is given a top-down view of the entire map where they can zoom in or out of any part of the map

The Daemon gets 30 seconds to 1 minute to secretly arm and place traps throughout the map while everyone else is both figuratively and literally, left in the dark

The remaining players have 2 - 4 minutes to go around the map to collect unit bags that spawn (mainly near the ends of traps) throughout the map (unit bags may become a placeholder for something else)

The traps do not have to be done in any specific order, only when unit bags spawn at the end of them

If a player goes AFK or they don't move too much from their current position (I.E. Stay in a small area) for a set amount of time, they automatically die and it counts as a kill for the Daemon, thus encourages people to not dawdle and actually complete the traps somewhat quickly

Daemon Payouts: 25U(Thanks for Playing) + (25U X # of players killed) + 100U if all players are killed (maybe scale base on number of players)

Player Payouts: 25U(Thanks for Playing) + (10U X # of unit bags collected) if you survive
I don't have a name for this gamemode idea yet, but I may come back to edit this post later, or create a dedicated thread so I can expand on this idea and maybe get it fully fleshed out.
burntcookie's Suggestions
ULTIMATE FRISBEE
So the way it'd work is you get to customize your own frisbee like in minigolf and the main goal of the game is to throw it into a smaller version of those things they kick the ball into in football (Sorry not a sports person, but the thing looks like a Y) and if you miss you have to wait 45 seconds for your frisbee to come back in your hand and while you're waiting you'll have a weak pistol to try to kill others. Since I also figured we'd need defense, it'd be a 6v6 match and only 2 on each team are randomly chosen to be frisbee throwers. The people that aren't chosen will have tommy guns and grenades and be able to pick up power ups (max ammo, rage mode, etc)
Roller Derby
It'd be like a roller rink and you can pick roller skates, skateboard, scooter, and whatever else and you have grenades only and it's a 12v12 trying to get most kills. Along with power ups (Flying, Small, Rage mode, Nuke which is a 18 kill streak which wipes out the whole entire other team)
---
If you have a suggestion, leave it in a reply and I'll update this post with it.