Weekly Dev Log for March 28th, 2022
Hello everyone, and welcome to the Weekly Dev Log for March 28th, 2022, detailing all the changes that have happened since March 21st, 2022. Note: Devs that don't appear in the weekly log are not necessarily away or not doing work, but may be working on things currently not announced or backend work that doesn't need to be detailed.
Accessibility Suggestions
We've created a forum post asking the community for suggestions on how we can improve gameplay for players with certain conditions such as colorblindness, dyslexia, or anything else that might affect a players ability to use the standard presentation and controls of the game.
If you have any ideas or suggestions, and possible solutions on how to solve a particular issue, please check out the forum post here.
March / April 2022 Condo Contest (IN PROGRESS)
Hey everyone!
This month's contest is another structure building contest!
As always, feel free to interpret that how you see fit. There is no theme, so you can build any kind of building you want and have fun with it!
Also, feel free to expand on preexisting Condos! Want to add another floor to the default Condo, build a shed in the backyard of the House Condo, or have other additions in mind? Go for it!
The deadline to submit entries is April 10th, 2022 at 11:59 PM CT.
You can read the rules here.
Update 0.15.1.0
We're currently working on Update 0.15.1.0, which will bring numerous optimizations and the new Zombie Massacre map, Acrophobia.
You can view the planned fixes and changes here.
Controller Support
@macdguy has been working on improving controller support.
Controller support is coming along nicely. The backend for controller systems is all setup and finalized now. Adding controller support to various menus is pretty complex as it's case by case.
For example, in Zombie Massacre, controller support had to be coded to be intuitive and select the first possible upgrade when highlighting while using controller, then highlight the unlock button for you.
There's also a bunch of minor changes for each menu to handle which buttons should be active and which should not, etc. Luckily the system made now handles all of this with ease, but we still have to go through each menu and think about how the controller will highlight each part of the menus.
Controller Support: Zombie Massacre Menu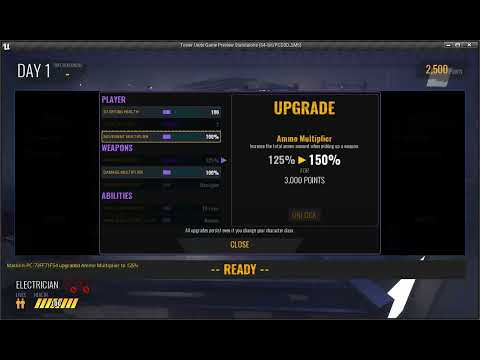 Zombie Massacre
@Johanna finished working on Zombie Massacre: Acrophobia.
@macdguy helped get Zombie Massacre: Acrophobia ready for release. He made changes to the Mercenary class by removing "Focus Shoot" and replacing it with the "Drone Buddy". Drone Buddy will follow the player while shooting at zombies around them. He also worked on adding controller support to the menu.
@Sketchman finished working on achievement icons for Zombie Massacre: Acrophobia.
Zombie Massacre: Drone Buddy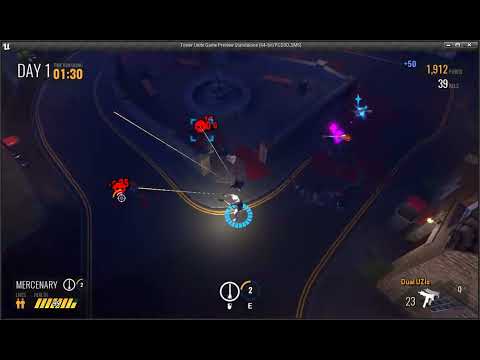 Third Party Plushies / Statues
@JJosh has been working on the Third Party Plushies we've talked about in the past. We're hoping very soon to have these released, and available to obtain in the Arcade.
Current Third Party Plushies/Statues
Credits (from Left to Right)
Dr. Poque from Mega 64
Credit: Rocco Botte from Mega 64
https://mega64.com/
Kamikaze Melon and Zeeky H. Bomb from the Demented Cartoon Movie
Credit: Brian Kendall
http://briankendall.net
https://www.albinoblacksheep.com/flash/demented
Veronica and Jelly
Credits: Veronica And Jelly
@veronicandjelly
Sublo and Tangy Mustard
Credits: AaronLong
http://www.aaronlongcartoons.com
Bitey and Fatsack from Brackenwood
Credit: Adam Phillips
https://bitey.com
Fancy Pants Man from Fancy Pants Adventures
Credit: Brad Borne
https://www.bornegames.com
https://store.steampowered.com/app/668210/Super_Fancy_Pants_Adventure/
Strawberry Clock
Credit: Coolboyman
https://coolboyman.newgrounds.com
Captain D, George nad Shadow Blade from The Shooting Stars
Credits: JohnnyUtah, El-Cid, AlmightyHans, AnimatedTako, Friskkmkay, LyleRath, ZStrief
https://www.newgrounds.com/portal/view/698982
Tank Man from Newgrounds.com
Credits: JohnnyUtah
@JohnnyUtahNG
https://tomfulp.newgrounds.com
Jason and Stan from Nightmare Cops
Credits: TomFulp, PhantomArcade, IvanAlmighty, JohnnyUtah, Spazkid
@NightmareCops
https://newgrounds.com
Ashens
Credit: Ashens
@ashens
https://www.youtube.com/user/ashens
Giraffamoto
Credit: Jaxamoto
@Jaxamoto
https://www.youtube.com/user/jaxamoto
Tarboy
Credit: James Lee
@JamesLee03
https://www.jameslee.art/
Miscellany
@Johanna worked on improvements to the Plaza.
@Lifeless started blocking out a new SDNL map.
@Madmijk continued working on the Condo instruments, working on implementing the instrument sounds.
@Sketchman continued working on backend improvements and optimizations, while also fixing some crashes.
@Wheezwer continued working on Steam backgrounds.
@Will continued working on SDNL music.
Wrap It Up
That about covers everything that happened since March 21st, 2022 at PixelTail Games.
---
Join our Discord for development updates and community fun!
https://discord.gg/pixeltail
We love awesome people like you!
We're also active on Twitter!
https://twitter.com/PixelTailGames
Follow our developments on our Trello in near real-time:
https://trello.com/b/6BwRMiPw/tower-unite-roadmap
Take a peek at what's being worked on every week in our weekly dev logs! There's bound to be something interesting every week!
https://forums.pixeltailgames.com/c/devupdates/weekly-dev-logs
Please report bugs & submit suggestions on our forums. We're active everyday & here to help.
For bug reports: https://forums.pixeltailgames.com/c/bug-report/18
For suggestions: https://forums.pixeltailgames.com/c/suggestions/7



<3 PixelTail Games