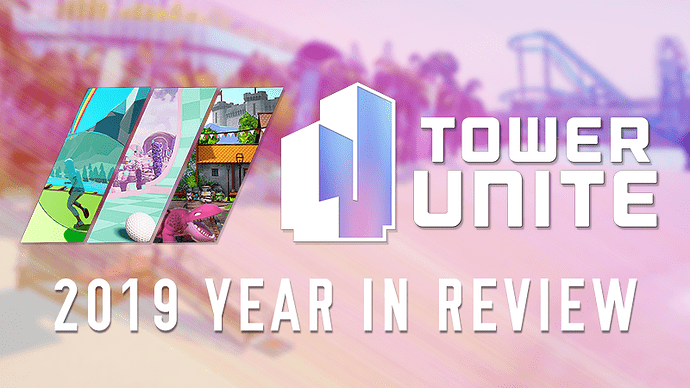 Hey everyone! 2019 has been a big year for PixelTail Games and Tower Unite - so we've decided to release a Year In Review - a look back on everything that's happened this year, and what we can expect to see in 2020.
The 2010s have been a massive decade for us. We went from just a small group of friends making games together to a whole company - and there were some massive hurdles along the way. It's crazy to look back and see how much Tower Unite has evolved since its first preview on Indiegogo back in 2015. We appreciate your continued support during our Early Access journey.
We wouldn't have been able to make Tower Unite what it is today without our community's feedback and suggestions (over 4,900 of them!) in every step of development.
The world of Tower Unite continues to evolve, as we've been releasing updates all year adding new things to do:
Lobby 3 & Achievements/Milestones Update
Our biggest update so far came out in March - Lobby 3 - introducing a redesigned Plaza and faster loading times. The update (0.7.0.0) also included Achievements, EXP, Badges, Milestones, Leaderboards and RC Cars and Boats. We remember joining the final version of Lobby 3 for the first time and exploring where everything was, hearing "Sunshine Day!" once again. It was a huge moment for all of us.
Ball Race: Event Horizon
In early April, we released version 0.7.1.0, featuring Event Horizon, a new map for Ball Race. We also added a bait shop and boat rental area in preparation for the Fishing update, which would come out in late May.
Easter Event 2019
We released the Easter Event 2019 Update (0.7.2.0) in mid April, introducing a new Easter Egg Hunt event, as well as several Easter-themed items such as Bunny Ears, Plush Rabbit and Throwable Eggs. Update 0.7.2.0 also introduced PAK, a faster way to load the game (with a few tradeoffs).
Fishing
Fishing was another big feature we released this year! With over 100 different fish and weird items, this update kept players trying to catch 'em all. The 0.8.0.0 update also included a new Inventory UI, new Stores UI, a shared Wheel of Money jackpot and… the ability to become a dolphin?!
Summer 2019
In July we released a… ahem TUbular Summer Update to celebrate the season. This update included 53 pool tubes, Chainsaw Deathmatch, Booze Bash and many summer related items, such as the pool noodle!
Woodlands & Altitude
The Ball Race map, Grass World from GMod Tower was remastered and added to Tower Unite as Woodlands. Altitude was completed remastered.
Endless Poker Update
Texas Hold'em/Poker got a total rework in update 0.8.3.0 - as the update's name would suggest, you can now endlessly play Poker, and the UI was completely reworked to better show player actions. Also in this update, we scaled down the plaza by 15% to keep players closer together, added new jetpacks, added event teleporters, added a map and fast travel, updated the scoreboards, and updated the Condo settings menu.
Halloween 2019 Events & Village!
Once again, we released a Halloween update including new and returning Halloween items. The Cauldron and the Remains came back, along with a new event currency system called Ghoul Coins. Update 0.8.4.0 also included a new Zombie Massacre Map: Village, as well as new monsters - Ghosts, Skeletons, Exploding Pumpkins and Werewolves were all new additions to Zombie Massacre. A user-requested Condo Map called Smooth Autumn also made its debut in this update.
Winter Plaza
Last month we released the Winter Plaza, where snow has settled in Lobby 3. This update also included optimisations, bug fixes and improvements, such as shiny new "Ready / Go", "Fail" and "Bonus" HUD animations for Ball Race.
Arcade
During all these updates, we've also been hard at work on the Arcade behind the scenes. We're excited to share and announce some really exciting developments in January. Arcade now has around 23 working machines and around 15 more in the works.
---
As always, we're committed to delivering fun gaming experiences to our players, having transparency between developers and players, and regularly adding new content to the evolving world of Tower Unite.
We've also got some new developers on board this year that have been working hard on Tower Unite.
Maddie joined us in June and has been creating wonderful art and characters for the Arcade ever since. We're eager to show off her work in the upcoming Arcade update. Her favorite thing to work on so far for Tower Unite is the artwork for the Galaxy Police arcade machine.
Our Community Manager, Nath, joined us in August and has been honoured to work with such an inclusive, wholesome and interactive community ever since. He's made some great friends and memories in-game - so far, his personal favourite memory is The Board, a massive montage of our community's avatars. We even had people join in-game, and this was the final screenshot: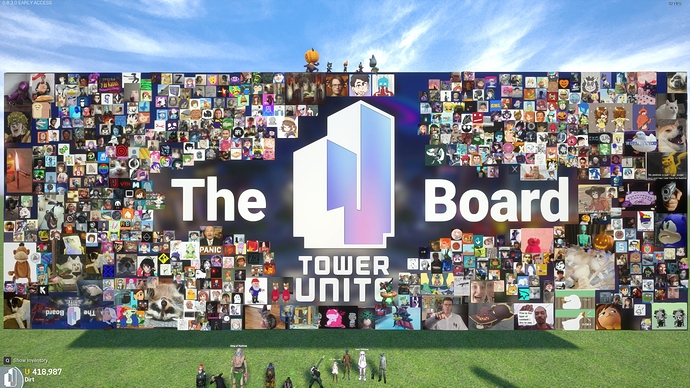 Thank you to everyone that's played, streamed, recorded and shared our game. We're honoured to have such a closely bonded community, seriously.
What did you get up to this year in Tower Unite? Who did you meet? What update did you enjoy the most? Let us know in this thread! We're all looking forward to reading what you all have to say.