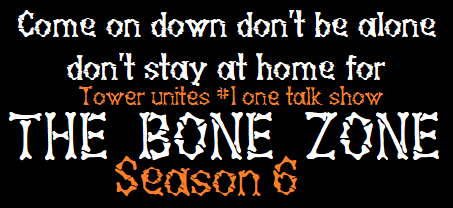 That's right guys and ghouls we're back once more to celebrate the spooky season and right out the gates we've got several episodes planned.
Every Saturday in October at 8pm EST (not including the 1st) there will be an episode of the critically acclaimed #1 Talk Show The Bone Zone! Including Halloween that makes for 5 nights of fright and delight.
Seeing as Russi has a work schedule that doesn't line up with those shows I will also be doing a few nights to accommodate him being able to come on down as well, however those are not yet planned.
If any scheduling changes occur of course you'll be the first to know via this thread.
Of course the rules as always remain the same.
No over-obnoxiousness, excessive trolling, or derailing the show.
Treat others with respect, no racism, homophobia, starting drama, etc
Audience interaction is encouraged but within reason, applause, cheering and banter is fine but constantly interrupting and getting in the way will lead to warnings and eventual muting or kicking. Just try to read the room.
Any clips, videos, edits, art, memes, and of course screenshots should be posted to this thread. I love seeing all the different perspectives and if you're lucky your work will be showcased on the show for all to see!
Any questions, comments, hype, yada yada you know the drill feel free to post it here. Hope to see you all soon and stay spooky!