Hey everyone!
It's still the beginning of the year, so we wanted to share what we have in store for you in 2023, and to look back on some of the major changes in Tower from 2022!
We'll be mentioning a new calendar, a new survey, and 2022 in Review!
---
Calendar
First and foremost, we wanted to share that we've been working on a new calendar for the year!
TU players who have spawned into the Plaza have most likely seen the calendar that hangs out between the escalators in the Train Station.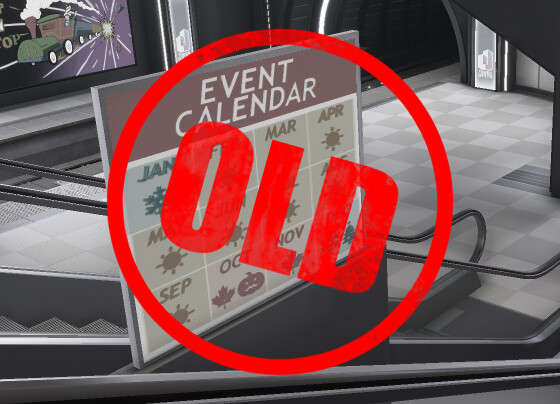 There have been discussions and suggestions about expanding on that calendar, and we've recently been doing just that!
Here is a preview of a couple months of the calendar which will be available in-game soon! It will be much larger in game than the existing calendar.
---
With it, you'll be able to track Holiday Events, EXP/Ticket/Fishing Weekends, and Condo Contest dates all from within the Plaza! Later, we plan on adding more short weekend events such as Game World events and further Plaza activity events.
This way you'll be able to plan ahead for when you may want to hop on to Tower and join in on some fun!
---
2023 Game Update Plans
We also wanted to share with you all some of our plans for the year! The calendar is just one part of our goal to streamline event releases so that players are able to enjoy events at their intended release time without major delays.
In terms of what we'll be up to this year, we're already working on bug fixes and the next updates.
We haven't stopped development of Condo I/O, and we're planning to make great progress with SDNL, VR, Plaza Boardwalk Games, MIDI Instruments, Daily Rewards, Workshop Rental Store, Workshop Sound Packs, Workshop Game World Map Creation Tools, and some unannounced features.
We have active work going on for more Game World maps, more fun Condo items, improvements to Game Worlds, more NPC models, and Steam Deck & Controller Support all coming as well!
If you'd like to keep track, we have a Trello where you can do just that!
---
December Survey Results
Towards the end of last year, we held a survey to get an idea of what you all were looking forward to in Tower's Development. We've compiled the results in a post here!
---
New Gameplay Survey
If you'd like to participate in another survey, we have another one for you to do which covers more in depth questions about game play! You can find that one here.
---
2022 IN REVIEW
With that all being said, we now wanted to share an overview of Tower Unite's release progress in 2022!
Last year TU had 17 updates, including 9 major releases and 8 minor releases, adding new games in the Plaza, new Game World maps for neglected Game Worlds, and various additions including:
The first update of the year was a remaster of a Ball Race map that has been with Tower Unite since launch, and it came with plenty of improvements to Ball Race itself.
Long-standing bugs were fixed, and there were much needed improvements to the camera, HUD, and goal sequences!
This update was a bit of a secret for a while, and added a physical location for players to browse condos, rather than just having to look at a list!
It was long awaited and replaced the Condo Hub design that had existed in the Plaza since Tower launched.
In addition, Riptide Retreat was the tropical beach track release that separated Accelerate tracks into separate choices on the menu, so that players could mix and match more easily.
There were also Plaza refurbishments such as the new Theatre sign and the Suite Suites redesign.
The Tower Glove was added to combine Condo tools into one simple location!
Acrophobia was a new Zombie Massacre map release that focused heavily on verticality! With it Zombie Massacre abilities were updated, including the addition of the Drone Buddy and support perks for the Scientist!
Along with the map release and the Anniversary event, Ball Race: Paradise got an updated look.
Playlists and Physics-al Media were added, as well as 50+ appearance items, tons of optimizations to materials, texture streaming, and menus in all areas of the game, and controller support improvements.
The Casino Expansion added Bingo, Blackjack, Roulette, Silver Saddles, 5 Card Draw, Keno, and Spin to Win 2! The Casino got a brand new look, and a new Condo, the Ice Moon, was added as a Spin to Win 2 prize.
Condos got a lot of love in this update, with 150+ new items, including much-requested things such as sinks, kitchen counters, sound emitters, media players, and more! Players were finally given the option to play Billiards in their Condos too!
The first round of 3rd party plushes made their way into the game in this update, and Discord Rich Presence became available to keep friends up to date on your Tower
antics.
Virus got a new map after going quite a while without a new map release, and changes were brought in to Hospital and Subway to improve movement through the maps and reduce sight-lines!
Ball Race, Minigolf, Little Crusaders, Accelerate, Casino and the Condos also received some improvements with fixing camping spots, collision, and other various issues.
We had our usual Halloween update in October! 43 new items were added overall in the game this update.
The Media Remote was added so that players can interact with media players from a distance, and the Hotbar was streamlined even more!
There were optimizations and reductions of draw-calls to several areas of the game, affecting movables, materials, colorable items, and more.
Not too long after the Halloween Events began we were able to release the Dark Voyage Shooting Gallery Ride, which had been paused in progress since 2021.
The ride is a long, spooky, target-shooting adventure through time and space where players can test their aim against ghosts and monsters! It has four unique areas, each with their own theme.
13 new items were added, and there were also improvements to group selection on the Copycat tool!
Steam Trading Cards, which were a promise from Tower's IndieGoGo campaign, were finally added in December!
They'd been in progress in the background over the years, and now players can earn 3 Steam backgrounds, 6 trading cards, 6 badges, and 5 different emoticons by playing the game and trading with friends.
The final update of the year was the Winter 2022 and Condo I/O update. This one was tough to get out to you all due to build issues, but it brought with it lots of fun. 56 new items were added along with another long- awaited feature: Condo I/O!

Players can now make their Condos much more interactive, with the ability to create events triggered by actions! This opens the door to more game-like Condo creation and offers players much more control of how Condos are experienced.
---
That's all for Tower Unite in 2022. We hope you all enjoyed last year's updates and fixes, and we can't wait to release the upcoming updates to you all this year!
Thanks for reading!