Since community condos are on the horizon I've been thinking of a few different concepts to improve the whole experience. My first idea being Condo Points.
How do they work?
They work just like the normal Units currency, but obviously it's for condos only. For each community condo you visit, you will have a different amount of Condo Points depending on how much you earned in those condos.
How do you earn them?
There are a number of ways to earn Condo Points, the first being time spent in the condo. Over time, players can earn Condo Points so the more time you spend in a condo, the more Condo Points you earn. The condo owner will be able to change the variables such as:
how often players get paid Condo Points (once per hour, 5 times per half hour, etc.)

how many Condo Points are given at each payout

how many times per day Condo Points are paid out.
The second way to earn them is via item activation. For example, you could connect a button or switch to the payout system and when the button is activated the player receives the set amount of Condo Points. This could be set on a one time activation so players can't have more than one payout.
This method could be perfect for condo minigames. An example of using this method could be at the end of a parkour course or maze. Simply place a button at the end of these activities and reward players for completing it.
With the addition of minigames being brought to condos, maybe you could add a purchasable poker table and allow players to bet their Condo Points on a no limit game.
How do you use them?
The Condo Points concept will require the addition of shops within condos so players can purchase items of their choosing. The condo owner will be able to create a shop (maybe with an NPC) and choose its theme as well as choose which items will be sold in that shop.
With the addition of multi-player editing, the condo owner will be able to build spaces such as apartments or simply just a room and give certain players access to building in that space and that space only. This will work as a housing system and will give players their own space to build and decorate their apartments/rooms without giving them the ability to build on other areas of the condo.
I have created some concept art on a shop idea where players can purchase different personal spaces within the same condo setting: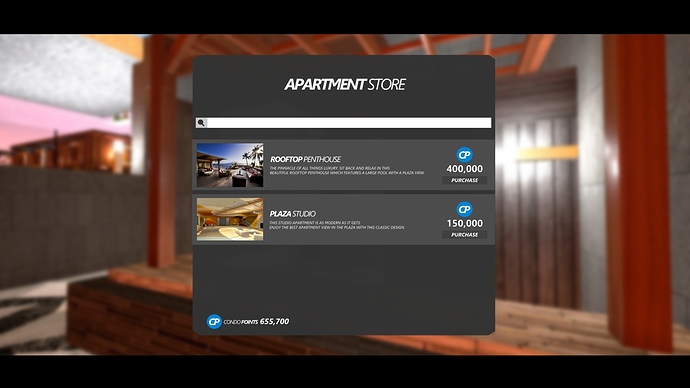 This could work by letting condo owners write the shop title, item descriptions and upload images to the shop purchase screen, as well as set the price for the personal spaces. Each space will be locked with a door by default and by purchasing the space via the shop, the door unlocks and the space becomes editable. Players may then furnish that space with the items they bought from the item shop.
In addition to this, once players have purchased a personal space, they could choose whether to have their space open publicly, friends only or closed.
Personally, I think this concept would fit perfectly when community condos are released and would add many more layers of gameplay within the condo environment. Let me know what you guys think!