Event Horizon - a new Ball Race map!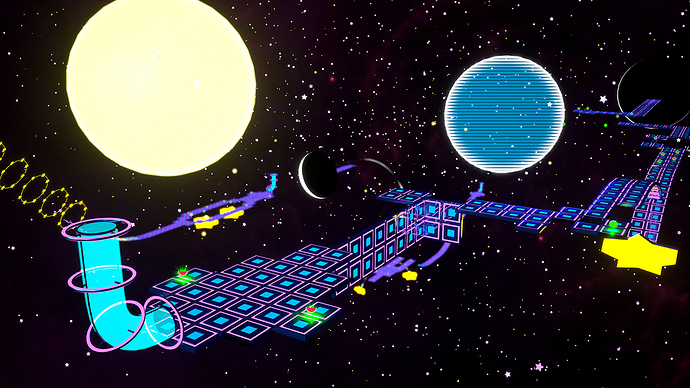 Major Changes
Added new Ball Race map - Event Horizon!
Plaza: New Bait Shop & Boat Rental (for the upcoming fishing update)
Plaza: Added detail to Fresh store (part 1)
Plaza: Added new upgrades store window displays
Plaza: Added private theater entrance area (for upcoming private theater feature)
Changes
Plaza: Moved the boat launch building over to give the new bait shop & boat rental building more space
Plaza: Cleaned up the railings around the boardwalk
Plaza: Added more night lighting around boardwalk
Updated the targets in Target Practice to be visible during night time better (they no longer appear dark at all). Also updated the effects for the special targets
Added target lifetime indicators to Target Practice so you can tell when a target is about to remove itself
Updated the lighting in Minigolf - Forest to look much better
Updated leaderboard scoreboards screens in Plaza to show top 10 instead of just top 5
NPC item no longer shows prompt for talking to them if they have no dialogue lines at all
NPC item no longer shows leave dialogue if there is no dialogue lines
NPC item no longer shows talk button if there is no dialogue lines
Collection book now remembers the last scroll bar position after you've closed it and reopened it
Improved the look of the diamond golf ball
Updated engine sounds for RC golf cart
Added a setting to enable dynamic weapon scopes (like the crossbow) for better performance
Added a gameplay reset option to reset all plaza trackers (plushies, info markers, and camera spots)
Updated diamond jetpack trail
Reduced the scale of the RC car
Bug Fixes
Plaza: Added collision to the plaza road's trim so players can no longer fall through it when using the tiny potion
Plaza: Reduced texture data from ~760MB to ~740MB which will very slightly improve load times (ongoing process)
Plaza: Added collision to a metal wall behind the tower that did not have collision
Plaza: Fixed a gap in the escalators
Fixed a bug leading to plaza minigame payouts not always working
Minigolf - Sweet Tooth: Fixed the tubes getting players stuck by redoing them entirely
Minigolf - Altitude: Fixed Hole 18 being the absolute worst
Ball Race - Khromidro: Reduced the chance of falling through the finish circles without actually finishing
Ball Race - Summit: Fixed various different areas where you could get stuck
Virus - Hospital: Fixed an issue where you couldn't infect players in certain areas
Virus: Fixed workshop models sometimes loading in after the virus player model is set, causing infected players sometimes not being the infected model
Fixed a couple exploits with vote kicking
Fixed a couple exploits regarding upgrade items
Fixed Throwable Popcorn and Camera weapon shadows drawing when they shouldn't be
Fixed Casino anti-macro check breaking equipables when it failed to verify
Fixed first person legs causing players to be headless while using RC vehicles
Fixed monster potion creating lag and preventing switching monsters after doing the attack animation
Fixed achievement: Ribs Grow Back You Know
Fixed achievement: Big Bucks
Fixed achievement: Casino Addict
ZM: Optimized boss intros
ZM: Optimized monster materials and textures
---
You can follow our current developments on our Trello:
https://trello.com/b/6BwRMiPw/tower-unite-roadmap
You can follow our weekly developer logs here:
http://forums.pixeltailgames.com/c/devupdates/weekly-dev-logs
You can report bugs on our forums:
http://forums.pixeltailgames.com/c/bug-report
Or you may also report bugs on our Steam community, but please expect slow response time.