That's right guys and ghouls, get your rears in gear for some Holiday cheer because I'm proud (and a little nervous) to present the very first Bone Zone - Bonesmas Special!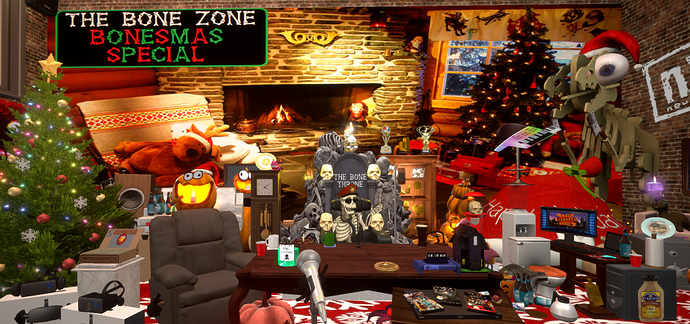 I was seriously considering skipping the idea all together and holding off for a different year, but I think it would be nice to have a couple little get togethers in the spirit of the season.
The shows won't be running all month, as of right now I'm only thinking of doing two shows.
Friday December 21st and Saturday December 22nd around 11pm EST as per usual.
I know some people will have their gripes about not being able to make it, but I did say even when considering the idea that it would be only a couple of nights and a small event.
I also have some Christmas theme'd videos in store for a psudo "movie night" for those interested, made by yours truly several years ago. Very similar in comedy style to The Bone Zone, so anyone who's a fan of the antics they see in October should also be a fan of these. I was considering playing them either during a seperate movie night, or perhaps during one of the shows, and thankfully I can always open my condo for whoever at whatever time and show them off in case you miss the Bonesmas Special.
Anyways, hopefully things go well. Still not sure if Skeleman can make it or not, but I figure doing something with the community is better than nothing, right?
Hope you're all doing well and to see you in Tower sometime soon!



Edit v2. - Barry has completely botched the dates twice now, and I THINK now they're finally fixed. C'MON NOW BARRY.