Note: you may have to open the videos in their own tab to get them to play.
At some point last year, Tower Unite surpassed Team Fortress 2 as my most played game ever, or, at least, game with most time verifiably logged on Steam ever. Admittedly, at least half of that was probably spent in Blender, AFK, or jetpacking in circles as I binge entire sitcoms, AND half of that other half was probably playing the actual game. Still, thousands of hours, and what to show for it?
I've tried my best to order these chronologically. Buckle up.
---
"The Ran one"
Map: Condo
April, 2016
I think the first time I ever went hopping around condos, I discovered the existence of canvases because someone had a giant mosaic of Reimu. I was floored, "WHOOAHH, BIG PICTURE WOWW"
Inspired, I decided to vomit my favorite 2hu all over the place. This is probably my first condo, I don't even have the save for it anymore due to re-installing Windows without cloud backups, so just a screenshot remains. Nothing special here, though. It's yellow spirit was later reborn into a Suite.
---
Fancy Theater
Map: Suite
2017/2018 winter
Just a compact & optimized, yet furnished theater for my friends to hang out and watch videos around the holidays. I feel like I didn't quite have the chops to make something from scratch on smooth dirt, but the capabilities of what you could do in game weren't nearly what they were now either.
Upstairs was empty, so of course I just blocked it off, but whenever I let strangers in, they always acted so smug because they clipped through the ceiling, as if I was trying SOOoOO hard to stop them.

Problem solved.

On the topic of 'Suite,' remember how this map was planned to have almost no customization? Like, no changing textures, weather, or time of day? I remember making a fuss about this, and it unintentionally lead to what I consider the funniest post on the forums:

---
Planet'arium
Map: Art Studio
Spring 2019
Surreal nonsense.
I think the original inspiration for this came when I saw someone else's art studio. They filled in the space beyond the windows and had empty pockets where they made aquariums. I too wanted to make a panorama. The crown jewel here is further beyond the walls though…
Also, this one holds the honor of being the only time Mac has ever joined my condo. Here's how that went:


---
Dixie Cabin
Map: Smooth Dirt
Summer, 2019
aka "Joe Dirt"
This is the first building I ever made 'from scratch.' An utterly stupid combination of dixie & weeaboo
This originally started as a single big log cabin themed room to house a theater, but it quickly boiled over.

I wanted to have rustic cabin condo badly, so I just had to make it happen myself. Looking back, the structure and scale were incredibly bad.

Bare in mind, this was before canvas items had texture support from in-game materials, and were custom URL only.

I remember being nearly done and realizing I didn't have a bathroom, so I lazily combined it with a gigantic gold safe lmao

One of my little joys with this one was watching people spawn from the top window and just observing how what they'd look at first.

---
The 36th Chamber
Map: Suite
August, 2019
No longer able to contain my suite as just a theater, a new yellower dwelling was born.
If you know me, you'll know yellow is my favorite color by a huge margin. That's that's about as deep as this one goes.
---
Popsicle Zone
Map: Condo
September 2019
If you've ever run across a guy named Dad Shark, you can thank him for this one. I learned from one of his condos that you could copy the glass material from the retractable ceiling well before glass textures had official support, so I made an entire condo based on this.
It used to blow people away, though perhaps much less impressive now that all sorts of glasses have been added to the material list. Unfortunately it was built out of season, so I could never enter it into a winter contest, and since I never published this one, I've recycled a lot of it's elements for use on other maps.
This condo also started my trend of making the Virus trophy have glowing eyes. It's my favorite thing ever. I really hope they never change the model lol.
---
Wu-Tang Mining Federation
Map: Resort
September, 2019
Heavily influenced by Deep Rock Galactic, this condo is some vague fusion of space stations & subterranean lava caves.
Resort is a tough condo to tackle. Huge. Too many rooms for one person. Like a lotta folks, I sectioned off areas I wasn't going to use, but now with thematic safety gates and tectonic collapses! Also, when an enviroment is this big, it encourages me to slap stupid memes everywhere to fill space.
Much like the ice condo, this one used to surprise people because it's entire basis was a copyable transparent texture from the map that most people didn't know about, in this case it was the metal grate cover for the giant fan here.
Like how smooth dirt used to suffer, some update caused everything outdoors to get bathed in bright blue moonlight, even when you try to turn it off. I can't quite make a big deal about this in good faith just because my specific condo suffers from being about to see outside with transparent walls. However, there's another problem with this map; workshop items here tend to become enveloped in darkness.
If I ever revisit this idea, it'd probably be built from scratch on a Smooth Dirt.
---
Cosmic Theater
Map: Smooth Dirt
Fall 2019
I will probably never finish a highrise condo. Too many rooms, awkward spaces, but a long time ago, I had an idea to use it for making a station on a low-orbiting moon. I never bothered beyond the outdoor scenery.
I had let someone in, and they complimented the outside, but said it was too bad how there's nothing else. That made me realize there didn't have to be anything else, so I moved it over to smooth dirt. Easy enough.

Before this game had official support for water textures, I had to make due with stretching out a 'Stone Fountain Monolith' This map took it to an extreme and covered all visible space.
Same ideas earlier; make a really well optimized venue to watch videos and make it nice to look at. You'd be surprised what a difference a new "skybox" will make (or canvas dome, in these cases.)

This one recently got reused in my Atlantis condo.
Ayyyy, look familiar??
Oh, and this happens to be just a regular skyline, just rotated 135 degrees. Neat, huh?
---
The D&B Abyss
Map: Smooth Dirt
Fall 2019
I started using the Cosmic Theater as a template for other decorative theater venues. This one ended up being my favorite. This condo also started a trend of me making environments based on musical sound. A lot of people think this looks like a metal album, but the inspiration was more from darkstep drum & bass.
I REALLY want to flesh this one out, but there's been various factors outside of my control that killed my interest. There used to be the funky green light that plagued smooth dirt, but the same update that fixed this also inadvertently increased the base amount of fog, so there's ugly blue haze on just about any smooth dirt build, and it just ruins the monochromatic look I used to have.
Same items, except 40k units in the sky, beyond the fog, but also beyond the sound of rainfall hitting the ground, sadly. I desperately crave that HDR black & white goodness.
Devs, if you're reading, please give us a checkbox to just turn off fog 100% in the condo weather properties.
I also made a hazier snowy one to try and compensate, but it just doesn't have the same oomph imo.

---
a e s t h e t i C:\ISLAND
Map: Smooth DIrt
Christmas, 2019
The final culmination of the 'Cosmic Theater' concept. While I was messing around with the original, someone queued Floral Shoppe and the inspiration hit instantly.
Man, this map has so many tidbits that it warrants it's own thread.
I had done something very similar before that helped get my plans kickstarted. I'm NOT a fan of tabletop games, like, at all, but my friends are, so when I found out that Tabletop Simulator lets you simply upload image URLs for table & backgrounds, I threw these together to entertain myself whenever I attempted to play with them. I still use the board texture as the carpet for the TV area.
And this god damn can. This map is unofficially a couple years old now and I finally added something I wanted when I first made it; Raspberry Arizona on the right side.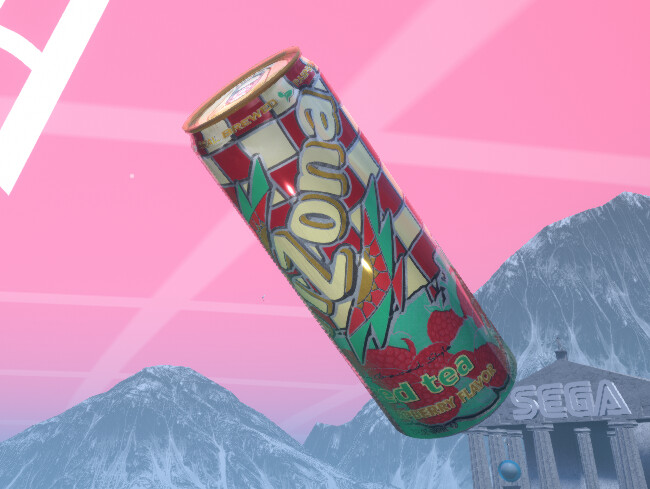 Of course the Green Tea's meme status meant assets of it were readily available, but for raspberry, I wasn't so lucky. I cut the top and bottom off one of these IRL with a dremel tool,made snips along the curved lip to properly unfold, then had it sitting under a cutting board with my Instapot on top to flatten it out, just to get a decent scan.
For a very brief moment in time, an actual Mac Tonight NPC was playing piano here, but the character is banned on sight from the workshop. Not a fan of that ruling.

Just to re-iterate how good canvas domes are, look how quickly it just looks like a bunch of junk in a field when you remove the sky and water.

Also, I can't not talk about this in a retrospect; If you've explored workshop condos at all, you've likely run into this map. It's currently the highest rated condo by a huge margin.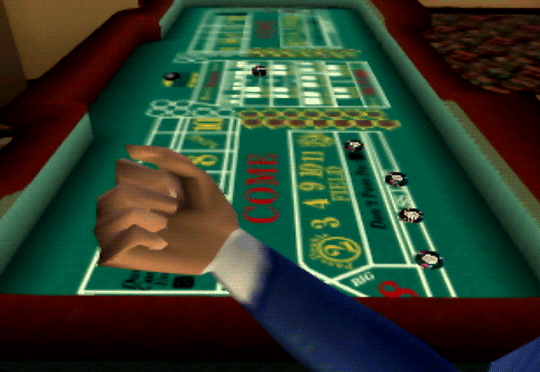 Figure A: Me writing the previous sentence.
Does it deserve that spot? I'll let you decide. Here's what I can say, though; timing was a factor. It would never get as high as it did if I didn't publish it within the launch window of the Workshop feature, when everyone's eyes were beaming in that direction. I hope someday TU gets much more players, cause the average TF2 hat blows these metrics out of the water lol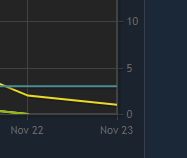 Seriously! My newest condo upload hasn't had any new visitors in the last 2 days.
Oh, and I have a Halloween version I drag out about once a year.

---
Kuso Gensokyo
Map: Smooth Dirt
Early Spring 2020
A shitpost if there ever was one. Completely exhausted from concentrated effort, I wanted to slap a bunch of obxnoxious GIFs everywhere with the new sprite feature.
This was thrown together in the span of a weekend and I haven't touched it much since. Maybe someday I'll upload, but there's much more to add before that will ever be the case.
If you're not a Touhou fan, this probably won't do much for you.
---
The Foxhole
Map: Smooth Dirt
aka "Dixie Cabin" (2)
November 2020
A remake of my cabin from the ground up. The goal was to be completely uncompromising, removing all laziness from the previous one; No more empty areas, or windows that take up an entire wall, or bathroom/vault fusions.

I started the outdoor scenery of this for the November 2020 "Fall" themed contest, but that one had a really weird deadline that I forgot about, in the middle of a workday day right before Thanksgiving break. R.I.P.

This condo is my baby, my absolute favorite. An artistic rendition of my happy place, if there ever was one. I wanted to take my ideal vision of "comfy" and crank it up to 11. Log cabin, rustling autumn leaves, sunset cinammon pumpkin spice soft glow, playing Animal Crossing after school, wearing-your-favorite-hoodie-on-a–windy-59*F-late-afternoon levels of cozy.

I'm about to put 90% of this community on blast to posture myself here, but I gotta get this off my chest. I HATE "secret rooms," and I don't simply mean rooms that are secret, no. By this, I mean shoving a miniature teleporter underneath a chair or something so you have to play Where's Waldo by scanning every corner with a tiny potion. I never thought this was fun nor interesting.
Of all my condos, this one suffers the most from the float number rounding bug. You know, the one where guests will see the scale of non-canvas items rounded to the nearest tenth decimal? Man I hope that one gets fixed. Bugs that cause visual inconsistency between players are the bane of my existence.
---
Happy Birthday Zone Act 1
Map: Condo
April 2021
Finally, in the year 2021, I entered a condo contest. I had the idea of making a rainbow sherbert colored condo for a very long time. I'm a 90's kid, I like Sonic, and Tower Unite just started it's Anniversary event. All these elements just came together.
Not a whole lot else to say. In-and-out, this was started a nearly complete in the month of the contest. It's right on the workshop if you wanna see more.
https://files.catbox.moe/0l9vc3.webm
(This video is a little out of date now.)
BUT, even though this was already over half a year ago, I'd like to make a shoutout to these two albums. I probably listened to both of these dozens of times while building it. Kept the juices flowing.
---
Can You Beat My Game? :)
Map: Smooth Dirt
Summer 2021
Note: there is no way to beat this game.
I look forward to expanding this when forced PVP and Condo IO happen.
---
@ l a n t i s
Map: Smooth Dirt
May 8th, 2021
AKA "E:\Den" & "w a t e r"
You may recall this from the May 2021 contest. Now, here it is, hot of the presses.
I got to work on this one almost immediately after the Sonic one. TU had a few water materials to put on canvas objects now, and by golly I was gonna put them to work.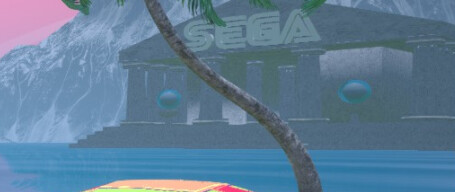 Basically an entire condo themed around this background decoration.
(This video is also out of date, please check out the real deal if you can!)
And the water? A 3-layer dip. A giant Evil Cauldron colored blue for that ethereal glow, with a stretched out hot tub for actual splashing and reflections, and finally the Smooth Dirt's grass itself using the ocean material for actual tides.

I held off on releasing this for a very long time, hoping transdimensional paintings would eventually get patched to behave themselves better (they kinda still don't, tbh) because almost everyone would pause to gander at the secret TV room portal and how it's perspective would shift.

But I'm glad I did hold off, because I did for so long that tubes eventually got added.

Tubes.

Tubes!
TUBES TUBES TUBES TUBES TUBES TUBES TUBES TUBES TUBES TUBES TUBES TUBES

Seriously, tubes are a game changer. The state of condos in this game will now have 2 eras: Before tubes & after tubes.
---
Unnamed eyestrain-inducing pyramid nightclub WIP
Map: Smooth Dirt
June 2021
My """current""" WIP. I got condo burn out real bad after starting this one, so it's been progressing at glacial speed. It also doesn't help that I hate building with triangles & non-perpendicular angles.
Seriously, this structure alone was a nightmare to build without triangles with a symmetrical, center origin.
---
Man, I love decorating games. Condos are practically an artistic medium in and of itself. I wish I had an actual creative process, though. I tend to have some vague ideas, throw the elements onto a map, then juggle them around for weeks/months until they look right in in terms of balance, space, color, etc.
For that, I have to commend the Tower devs, or any indie developer, really. I'm under no obligation to satisfy an audience, schedule, or copyright laws, and it still takes me forever to get something into a state where I'd be happy to irreversibly share it with the community. Who knows if I could actually make a fun map to service gameplay, but I'm hoping we eventually get official gameworld support to find out.
So that's about it. Happy Thanksgiving, all.