Mine would have to be Acai. He's a streamer who plays Clone Hero, a PC version of Guitar Hero.
Acai is a Cool dude, i Used to watch him alot actually.
My Favorite Is Joel. I don't know why but i just love seeing his streams
Maximlian Dood, streams fighting games and brings the hype.
Runner up is Jerma the compact streamer.
My favourite streamer was Ridgedog (ridgearound on twitch) but he hasn't streamed for ages. He was actually how I first heard about GMT and TU.
My favorite streamer's Vinny right now, his Sunday streams are great. Jerma's compact good too.
My favourite is Weest, he doesn't have a massive community but its large enough for a good streamer-viewer interaction that's very enjoyable.
My taste in streamers is so basic but I'm not ashamed to admit I love Jerma so much.
Runner ups are Vinny and Joel
DingDongVG has really entertaining streams, I usually can't sit through live streams but I really enjoy his.
I've been enjoying jschlatt and CallMeCarson, their Minecraft Mondays / Tuesday Tekkit / SMP Live streams are really fun to watch. I'll watch pretty much any jschlatt VOD all the way through.
I don't watch any of them live, but I like Binyot and Jobel from Vinesauce (got into them thanks to people like rrmm from this community who mention them often), Maximilian Dood, AngriestPat (Pat from 2BFP) for FFXIV and survival horror stuff, DingDongVG, Matthewmatosis' alt channel, and Psychicpebbles' art streams.
I don't like watching streams that much, but I love the videos RTGame makes out of his. It's about the games he plays, the (often unique) ways he plays them and his personality outright.
jerma the germa and joel
literally the only people i watch
yessss its great to know I'm not the only one watching whole jschlatt vods haha
Jerma is the only streamer I can currently watch, though I've never given others much of a chance.
Charlie Winsmore is also fantastic, mostly known for his 'Esteban Winsmore' character. He's done much more since then, and even recently went viral with his Chance the Rapper 'I Love my Wife' parody a few weeks ago. However he's kind of been of his game since he moved to japan, I think he's returning to the states soon. His Sims, Backyard Baseball and Planet Coaster streams used to be incredibly cozy.
SMP Live is truly an experience, I find CallMeCarson and jschlatt's streams hilarious.
The real guy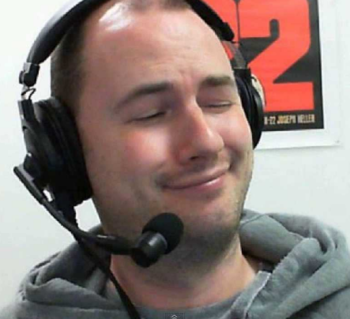 The best guy
I need to start watching Sips VODs or something. I love his personality in the Triforce podcast.