i recently noticed my unit count in the bottom left doesnt match with my unit count on the esc menu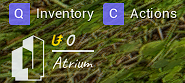 It also happened with me, when I played Arcade during testing. It's probably cause of this.
During in game testing or beta testing becouse i havent been in a beta test
When you enter the arcade, do you have tokens still?
and i have noticed more units i earn more the gap opens up the gap is roughly around 3k units now