As of yesterday (or so I noticed), uploading to the workshop isn't working for me. My intention is to just update an old condo, however, I tested uploading a "new" submission and it was broken as well.
I get to the final confirmation to Agree & Publish and get met with the following mess after attempting to proceed: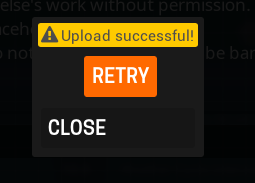 On subsequent attempts to retry, sometimes a failure message would instantly print before any sort of processing/uploading would be able to occur.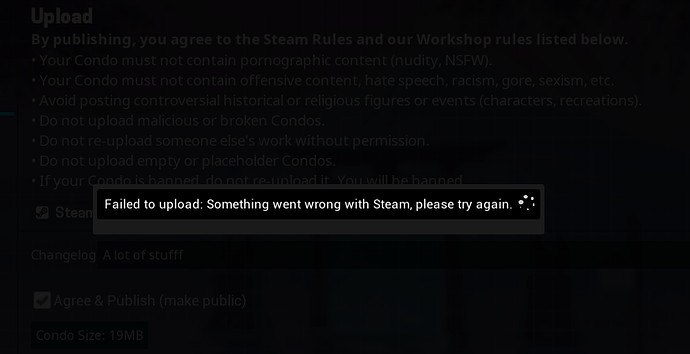 When I attempt to upload a snapshot as something new, rather than an update to an existing submission, it gets forever stuck on this and I have to close the game: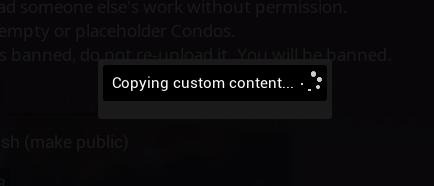 While writing this post, I decided to try uploading an item through the editor, rather than a map, and the behavior was similar, endlessly stuck on this: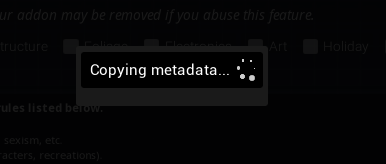 Through all of this, there is no record of new uploads or updates in the version history of my items.
Based on a recent upload, I know this was working as late as Oct 20 @ 1:20pm.
So far I've:
Verified cache
Confirmed network connection
Used different maps, with & without canvases
Tried different filenames for the condo, without & without certain types of characters
Confirmed that local versions are being made before being uploaded
Waited a day
I have a fairly sizable collection of workshop uploads, but I've seen people with significantly more than myself, so I'm hoping this isn't some weird Steam cloud storage limitation thing.
Steam ID:
76561197972109707