Hello again, fellow virTUal sphere rollers. We've got exciting changes for Ball Race and Plaza!
Major Changes
Ball Race player movement networking overhauled. Players with high ping will notice massively improved controls. Ball Race is actually playable in multiplayer now!
Lobby Changes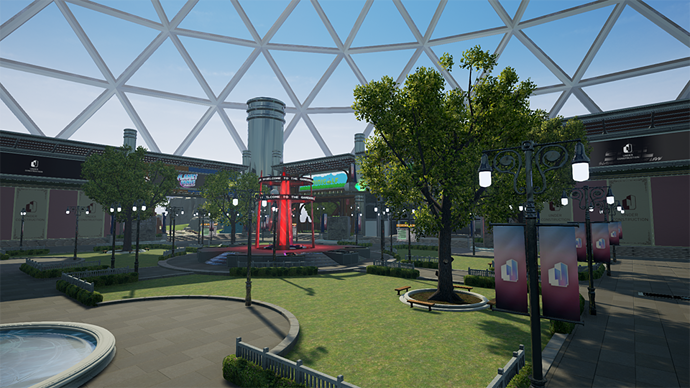 New Game World Ports Design
Gameworld Ports now have launch pads to move around the area easier
Added new Boardwalk/Beach area
Added new TV's to Beach Houses. These work the same way as the Theater's
New Subway/Transit Station Design
Bowling interior artwork pass
Fixed various holes in the Plaza
Improved performance with Plaza activities
Optimized the Plaza more (and will continue to do so)
New Items!
Added 7 new items: Paper Crown, Strainer, Computer Head, CRT Monitor, Old Keyboard, Stove, and Diving Helmet
Changes
Added media refresh button to the media request UI
Added chat messages when a player enters and leaves their Condo from the Lobby
P2P now automatically connects/disconnects from Lobby when changing permissions settings
Added 'Antique' tag to applicable items in Rob's Imports
Bug Fixes
Fixed spectating HUD not updating when a player spectating was switched
Fixed gamma/brightness related issues with media players
Fixed Condo materials not always resetting sometimes when switching Condo snapshots
Fixed Minigolf sounds not adjusting with the volume settings
Fixed Ball Race hats not showing up for every player
Fixed hair not always coming back when switching from hats that disable hair
Fixed lights being on for vacant Condo doors sometimes
Fixed collision issues on counter in Virus: Hospital
Fixed canvas poster (square) being slightly off center and clipping the imagery
Fixed canvas frame (square) being slightly off center from canvas
You can follow our current developments on our Trello:
https://trello.com/b/6BwRMiPw/tower-unite-roadmap
You can report bugs on our forums:
http://forums.pixeltailgames.com/c/bug-report
Or you may also report bugs on our Steam community, but please expect slower response time.