Self explanatory. I'm sure some of the community would like it.
There's currently flags planned for Little Crusaders' Upgrades. But I think a set of pride accessories would work well for the next summer event.
These are all the pride-related flags, by the way: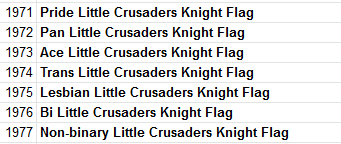 Yea like other people said, there are some pride related LC upgrades planned. It would be really nice to see some pride-themed hats or other items too, though
I had no idea any of these were planned, that's really nice to see, though!
Ace? Short for asexual, I guess?
correct
(coming from an ace myself lol)
ooooh i like the sound of that