Hello naTUre lovers!
Here's an update to sync your teeth into.
##New Minigolf Map: Forest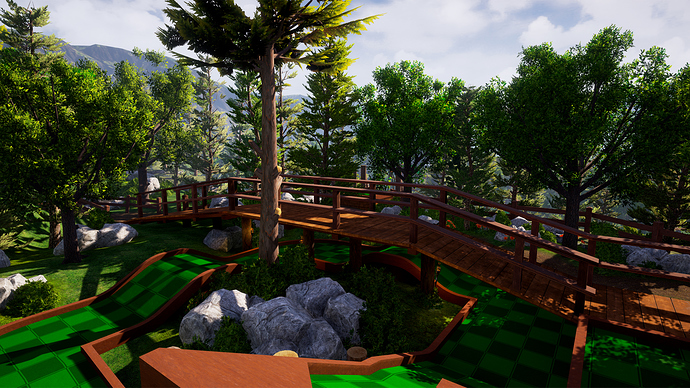 A familiar map recreated by Johanna.
##New Graphics Options
Added an FPS limit option
Added a view distance option
Added texture VRAM usage information
Foliage now can be reduced with the detail graphics setting
Developer Notes: The foliage setting currently only works on certain maps (including the Plaza). We plan to implement the feature onto some of our other maps in the near future.
##Fixed Minigolf De-Syncing Issues
This update addresses the issue where the client golf ball position was different from where the golf ball was located on the server's end. This is what caused issues where users thought they were putting in one location, but upon putting, would actually be in a completely different location.
##Fixed Bowling De-Syncing Issues
We also addressed the Bowling pin issue where bowling pins would sometimes appear to be knocked down on your client, but stood back up for the server. The simulation now is 100% correct and pins knocked down will stay down.
Changes
Added a new Minigolf map: Forest!
Plaza: Optimized the rooftop area (Project 12)
Plaza: HQ TV is now also a theater screen
Plaza: Removed roofs above launchers in-front of station to declutter the area
Little Crusaders: When the Dragon jumps, Knights can no longer continue riding the Dragon
Little Crusaders: Slightly increased the Dragon's bite radius
Little Crusaders: Dragon's button cannot be pressed while roaring
Added FPS limit option to graphics settings
Added view distance option to graphics settings
Added texture VRAM usage information to the graphics settings
Foliage now can be reduced with the detail graphics setting
Adjusted texture VRAM pool sizes
Minigolf: Updated the look of the hole intro text
Bug Fixes
Plaza: Fixed Theater (and other media players) vote skip required amount being incredibly wrong
Plaza: Fixed Spin to Win locking up sometimes
Plaza: Bowling no longer streams out when you fly towards the ceiling
Plaza: Location volumes for individual Game World ports are now larger
Plaza: Fixed Game World ports unloading when you fly up high
Plaza: Fixed Bowling de-sync where pins will sometimes stand up after being knocked down
Plaza: Potentially fixed Trivia locking up sometimes
Minigolf: Fixed case where a client's ball will sometimes get desynced from the server
Minigolf aimer arrow is no longer translucent on certain maps
Minigolf: Fixed Altitude Hole 18 issues
Minigolf: Fixed late joining players having their stroke value set to the penalty amount (now they will start at 0 as if they were always there for the current hole)
Minigolf: Fixed an out of bounds glitch in Sweet Tooth where you could get to hole 16 from hole 18
Ball Race: Fixed the Ball Race scoreboard round count increasing beyond the amount when you fail the levels
Ball Race: Fixed Ball Race bumpers ticking when they didn't have to (should help performance a little)
Fixed wearables not drawing for the client if the camera was different from their own (i.e. piano)
Fixed the Projector not working properly when the shadow quality is set to low
Fixed some performance issues with complex moving platforms in Game Worlds
Fixed chat box not swallowing shift key presses, fixing issues where people would sprint while chatting in Little Crusaders
You can follow our current developments on our Trello:
https://trello.com/b/6BwRMiPw/tower-unite-roadmap
You can report bugs on our forums:
http://forums.pixeltailgames.com/c/bug-report
Or you may also report bugs on our Steam community, but please expect slower response time.