title edited from New casino game suggestion - "Lucky 8 Roulette" + "Poker Roulette" (French Roulette?)
check back this thread later, as there is more. also, feel free to leave a comment for this.
they should be low in the betting limit, but offering high potential payouts.
at least one developer told me that the phase 2 won't be major, nor will it be on their highest priority. i won't nag this, but wish on it.
Roulettes (French, Lucky8, Poker, etc.)
for something i am talking about in title since a mod had told us that roulette is possibly added, i think having a traditional roulette is like too boring for a Tower Unite.
to make a roulette game more challenging, i would rather suggest a variant of as told, Lucky 8 Roulette, this way can set up a jackpot in it.
the multiplier should be modified like having a straight bet gets 50 to 1 (*51) and hitting a special number like 49 (see the video), gets the bets other than 49 refunded.
should be up to 6~8 players per table.
reference: https://www.youtube.com/watch?v=LaxxxlxS9E8
for Poker Roulette, it is to guess a single tile with jokers, with equal odds, like winning a single straight gets 54x, suit gets 4x (joker depends on colour which gives a refund when landed on the same colour), colour gets 2x (including joker), levels get 13.5x, any joker gets 27x.
unlike traditional roulette, it will need cards instead of a wheel (for its additional multiplier, see the video).
reference of the original concept: https://www.youtube.com/watch?v=4IsmM_R7Vv0
and one more, which is kinda interesting:

the suggestion above should be taken in concerns as well, because of its simplicity to understand. but odds should be raised a bit.

the optimal placement as above.
---
edit 2020/2/9
Mahjong
someone has suggested that (Japanese) Mahjong could be in as other PVP gambling tables. this game is kinda complicated to design because of its complex rules and instructions on it.
implementing multiple instructions like Taiwanese, Japanese, American, Chinese Standard, Hong Kong, will also educate people about the culture of mahjong.
reference of a message:

5 Card Draw
reportedly this game was available during Gmod Tower.
if you don't know what it is, it is similar to video poker. when a round of blind bet is done, just draw the cards you would wish to replace, followed up one more round of bet, it's revealed once done.
Keno
a lottery-like game where you choose certain numbers from 1 to 80 to form a combination to play, the result is a random pick of 20 numbers from 1 to 80. (jackpot could be a thing for this)
the draw should be conducted every certain period, unified, rather than played individually. players buy tickets like lotteries and they will get notified when the result is up.
Horse Racing / Derby
similar to real-life horseracing or sports betting, the odds are parimutuel. it was originally proposed to let players bet on the competitive games here, however, there are players having concerns about the possibility of corruption, for example, Typing Derby: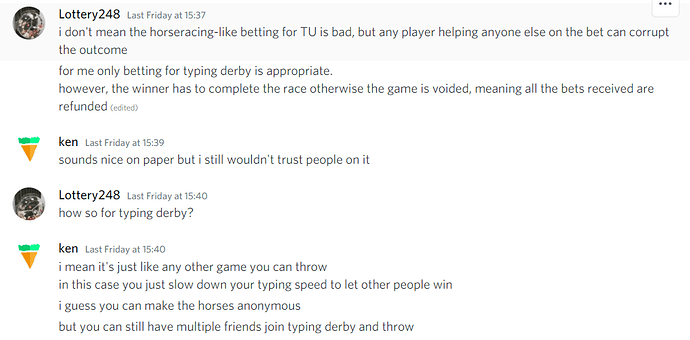 random number generator was suggested to replace real players in the game to bet. meaning the outcome would be (weighted) random.
this seems able to be solved through ranked basis, people have to compete with the others at the same WPM ability, penalties on certain intentions like slow typing or sudden leave.
Sic Bo
it is a table game where you guess what will come out from 3 dices.
reference:

Spin to Win Modification
Spin to Win is probably notable here. the reason is simple, 9 identical wheels (and more than 60% of the chance of losing what you have paid for, .008% to win a 20x). the prizes will be unattractive over time, therefore Spin to Win needs both new themes with new prizes set, and better prize values.
i would say types of wheels: units, pets, furniture, etc.
New Slots (Modification)
should i say that new slot machines should be introduced like video slot (5*3), which is more common in
the real-life casinos? i mean, more paylines and more chances to win in general.
here is an example of so:

Pachinko
it is a Japanese pinball based game, similar to Plinko, where balls getting into a specific hole gets you wins.
Bingo Night
like texas holdem, a large number of people sitting in a hall playing a that game to have fun at night, while not limited to the time. just like Keno, but to get lines or blackouts.
20/50/100 hands video poker
this one could help people play the video poker at a much faster pace.
they will be implemented directly into the existing video poker machines, players can select how many hands to be played ahead of playing. they have to pay a selected credit to bet times the number of hands dealt at that game. however, this will need to increase the size of screens for enhanced readability. when a player is playing with multiple hands, the jackpot increment is also higher, like playing 100 hands at 5 credits at once will increase the jackpot by 500.