@macdguy Is this your cat?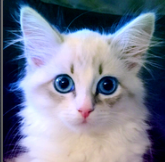 He obviously is.
He propably just set that camera to a timer, or he got someone else to take those pictures.
So cute

aww, it's eyes don't look blue anymore. That happened with my kitten too and it made me sad.
totally didn't use this as an excuse to post pictures of my cat, nope.
Also, it looks like Mac's cat still has blue eyes. :3
I noticed that, and now I'm jealous. Humph.
Wow a two year bump. Still love your cat Mac.
We need more cat please
and thanks