An idea I had in my head ever since I first played GMT. Hope you like it

The cards
Various colorful cards you can collect, trade, sell, buy, and play games with.

You can get cards from:
a) Booster packs
c) Trading with other people
Each card has:
a) Name
b) Rarity
c) Type (item, person, game world, etc)
d) Description
e) Number
Packs
There are several different types of packs. They differ by rarity, rarer packs having rarer cards.
Common packs
Blue. Not rare. You will see them rather often. You can get them by:
Finishing a minigame (like, 33% chance)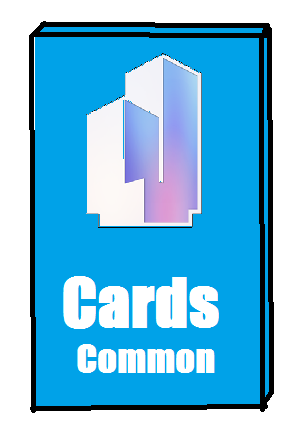 Uncommon packs
Green. Rarer variety of the common pack. You won't see them too often. You can get them by:
Finishing a minigame (like, 10% chance)
Buying them from Rob's imports (Randomly appearing in the store's stock)
As a purchase bonus in other stores (When you purchase something, there's a change you get a pack)
Arcade (Randomly appearing as a reward)
Catsacks

Rare packs
Red. Rare variety. You will see them very rarely. You can get them by:
Finishing a minigame (like, 5% chance)
Fishing
Holiday events
Ocean exploring
Catsacks
Metal detecting

Legendary packs
Golden. The rarest variety. Getting one is announced to the entire server you're playing on. You can get them by:
Finishing a minigame (like, 0.1% chance)
Admins, as a reward

Trading up packs
You can also trade up packs.
10 common–> 1 uncommon
10 uncommon --> 1 rare
30 rare --> 1 legendary