Some achievements in Tower are more difficult to earn than others. And I mean REALLY more difficult to earn. Take for instance, the Planetary Piano sprint achievements. These achievements are incredibly insane, to the point where Steam says only .1% of players have earned the 4-key sprint variant, while the number for the 8-key one is so low that Steam rounds it to 0%. Now, instead of nerfing these achievements and making them easier to attain, why don't we give achievement hunters the option to either go out and earn those achievements or, do something a little more… sneaky.
I'm proposing the suggestion of a vendor hidden somewhere on the map, with a location that could change every so often, that will sell achievements. Now, they could offer different ones different days, and sell them at different prices depending on how hard they are to get. I'm not going to get into specifics (it's not really my place to either), but I do think it is a good idea for people who both are trying to complete all achievements in the game and have a hefty amount of extra units to spend. I got this idea from Nier: Automata, which after you beat the game three times, you can buy all remaining achievements you have yet to earn from the main vendor of the game. The prices of each achievement varies, but you can buy whichever one you want at any given time. I think with the overabundance of achievements that Tower Unite has, it would be nice to give players the option to either earn all of them legitimately or through buying them from the vendor.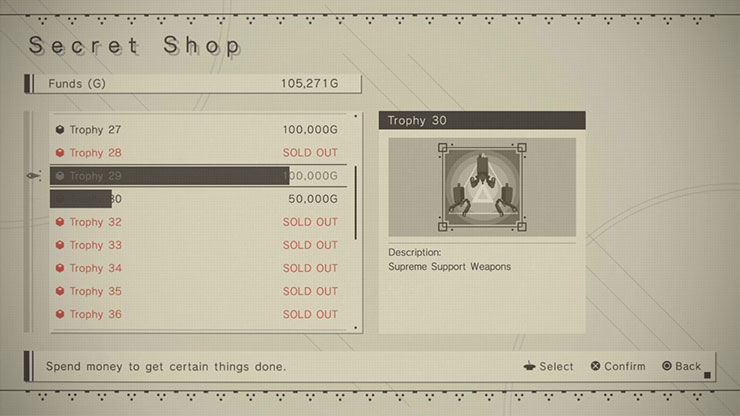 Additionally, if possible, it would be preferred if there be a little sticker or badge in the collection book next to an achievement that was bought. And if the requirements for that achievement were fulfilled legitimately since it was bought, then have the sticker disappear, showing that the player has earned the achievement legit. Think of it almost as how the hammers and challenges work in Smash Bros. Ultimate.