It's that time of the year again, or rather we're nearing it. So like the previous two events, I decided to make another items suggestion list!
Accessories:
Cleaver - Head (a cleaver chopped into the player's head, a splitting headache!)
Shackles - Wrist (a wrist-shackle with a broken chain, if possible one on each wrist would be great)
Candle - Head (a burning candle on the player's head)
Flaming Eyes - Glasses (flame effects hovering over the eyes)
Equippables
Broom - Vehicle (a hovering witch's broom vehicle, possibly with full flight)
Ghost Potion - Potion (grants flight, replaces the model's materials with the Ghost material)
Condo Items:
Bones - Decorative (multiple bone items such as a femur, ribcage, and pelvis)
Rain - FX (a cube of rain FX, preferably recolourable for blood rain)
Blood - FX (a placeable blood splatter Decal for player's condos)
Fire - FX (please…)
Tentacle - Decorative (using the Eyestalk assets, a placeable tentacle! Make your very own Pit Beast!)
Fangs - Decorative (combine with Eyeballs to create your own custom monster!)
Spikes - ??? (They kill you)
Sacrificial Altar - Decorative (stone surface to sacrifice your friends on)
YEARLY THEMES
One thing that'll become more obvious with time is how the typical Halloween theme can become stale or fully explored. To solve that, I think adding a sub-theme that changes yearly (and sometimes be revisited) would keep things fresh.
Many items added during this time would follow that theme but still be available each year. However, the Plaza would receive some new decorations that'd be seen that year.
THE THEME
Aliens Invade the Plaza! They've come to steal our Catsacks… but they got distracted by the activities.
A mothership looms over the Tower, windows around the Plaza glow green, the seagulls around the Lighthouse are little UFOs, the sky is purple, and somewhere someone is playing the Theremin.
Accessories:
Alien Glasses - Glasses (glasses with oval lenses and a green trim)
Bubble Helmet - Head (retro space helmet with a glass bubble design)
Cosmic Deely Boppers - Head (headband with wiggly planets on springs)
Eyeball Deely Boppers - Head (using the same physics as the above hat, this one has eyeballs!!)
Alien Baby - Back (carrying around a little Alien in a baby pouch)
Tractor Beam - Particles (a cone of light surrounds the player)
Slime Cube - Head (a cube of slime surrounds your head, little stars are suspended in it like aspic)
Equippables:
Ray Blaster 195X - Weapon (a retro ray gun that makes "pew pew" noises)
Test Tubes - Weapon / Toy (throwable test tubes with multi-coloured volatile chemicals)
Mothership - Pet (UFO that hovers directly above the player's head, multiples hover above each other)
Condo Items:
UFO - Decorative (a placeable UFO)
Tractor Beam - FX / Light (a directional light with high density, similar to the Emergency Light's beam)
Specimen Tube - Decorative (a big tube filled with Green liquid that you can place items inside)
Star Projector - FX / Light / Electronic (a projector that casts star shapes, as seen on the Party Crab)
Hanging Stars - Light (star-shaped lights hanging from an adjustable string, like the Heart lights)
Laser Beam - FX (placed down like stringlights (reaches to a Target point), colourable)
Test Tubes and Flasks - Decorative (test tube and other science-y containers with glowing liquids)
Here's just some random sketches of some ideas.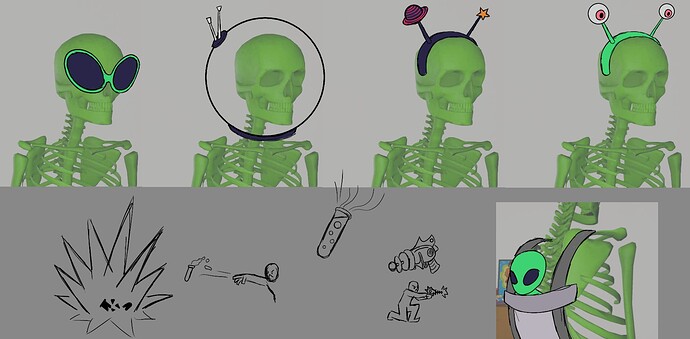 If you have any other ideas, feel free to add them below!