In light of the recent tourney, here I go with my controversial opinions! It's worth noting I enjoy and play on all of these maps, and none are anywhere near an unpleasant experience. Though I do have quite some opinions.
With 1 being best, and 9 being worst, the structure in a given tier is:
1 2 3 4 5
6 7 8 9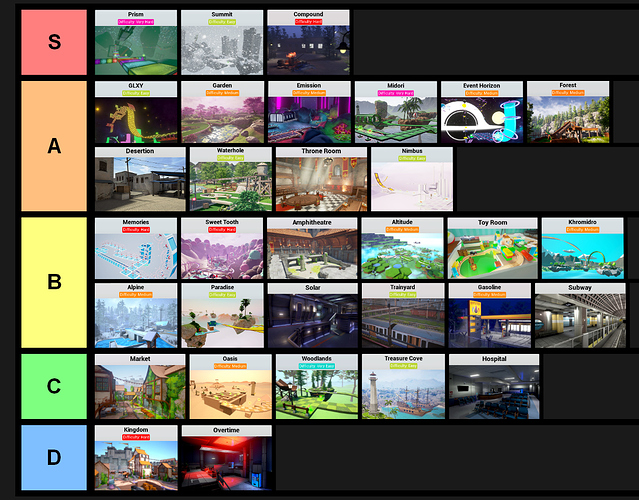 (I made this from scratch because online tier list makers aren't great)
Without creating a very lengthy thread of explanations, here's a brief summary of criteria I considered making this list:
For "arena" maps:
Comprehensibility (Can you visualize its rough layout in your head?)

Distinguishability (Do different parts of the map look/feel different?)

Overall aesthetic/theme (Is there a good theme? Is it executed well?)

Serves gameplay (Do the map and its parts have a clear purpose for the game's goal?)

Novelty (Does the map do something unique to separate it from others?)
For level based maps:
Purpose (Does the map have a consistent gameplay style, or skill it tests?)

Intuitive (Is the map natural to play? How difficult would it be for a new player to understand it?)

Versatile/free (Does the map encourage/allow for player choice or creative solutions?)

Flow (Is the experience constant and/or consistent? How much are you waiting around?)
I might update it if I feel there's a glaring issue, but opinions on maps are really subjective, so it's bound to be controversial and bring up counter-points anyways (Which I encourage).