This thread is exclusively to post Condo I/O related stuff and to help people that is struggling with it.
CONDO TIMER
Items required
1 Clock
3 Counter Modules
First, set up a module that keeps track of the seconds and give them the following properties.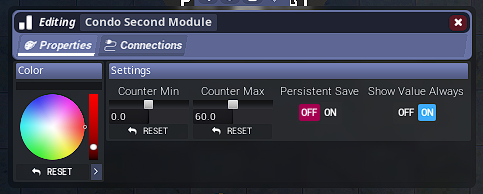 Second, set up another module that keeps track of the minutes and give them the same properties as the seconds module.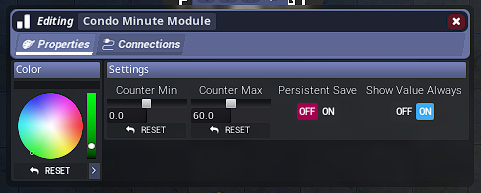 and last, set up a module to keep track of the hours and give them the following properties.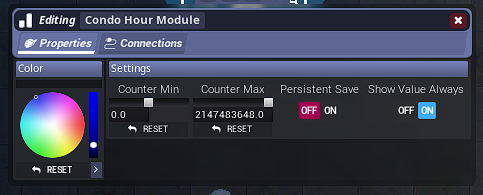 (You don't have to set the max value that high, this is just how I have set on my condo haha)
To make things easier, colour up the modules to make them easy to search.
Now for the connections, in the seconds module do the following:

Repeat the same operation for the minutes module:

Leave the hours module as is. (Unless you want to keep track of days)
Now let's move to the clock:
Connect up the clock with the seconds module in the OnSecondPassed event.

If you followed these steps correctly, the timer should look like the one shown in the very first image of this post.
Once you're done with this, decorate it in your own way.
NOTES:
Timer will begin as soon the condo finishes loading all items (workshop items excluded).