Basically, manually creating and editing the file that's supposed to contain my own personal list of banned players does nothing in game, while adding people to the ban list using the feature in the condo works, but does nothing to the supposed file. It's almost as if my game doesn't even use the file at all.
I know Mac is well aware of this, but I just wanted to chronologically list everything that I've done surrounding this issue. Also, for me, at this point this is no longer a requested feature, but something that needs to be fixed.
So, here's everything that's happened:
-I wanted to add someone to my list of banned players for poor behavior in Virus.
-I was told by Mac to create TowerBans.ini in SteamApps\common\Tower Unite\Tower\Config if it wasn't there.
-It wasn't there, so I created it.


-I made a mistake by only listing the players Steam ID without following it with " ,0 "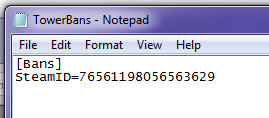 -I fix this, while also preemptively adding another player to the list.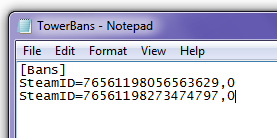 -Unwanted player is still able to join my game.
-I decide to do a test by permanently banning one of my friends from my condo.
-The TowerBans.ini file did not update with my friends Steam ID.
-My friend is still banned from my condo and any games I host.
-I moved the TowerBans.ini file elsewhere and my friend is still banned.
And that's where I'm at as of now. As of 0.1.1.3, the original player that I wanted to keep out of my Virus games continuously joins me, and it's not just me either. Two of my friends who I showed how to do this also have said player join their hosted games as well.