Weekly Dev Log for January 26th, 2018
Hello everyone, and welcome to the Weekly Dev Log for the week of January 26th, 2018. If you haven't heard, we've recently retired our old Daily Dev Log in favor of the Weekly Dev Log, which will allow us to give a broader picture and explain things in plain English, while also including some photos from development. Without further ado, let's get started.
Tower Unite 0.4.0.4 Update
Over the past week we've been working hard to getting a new update out for Tower Unite, Version 0.4.0.4. This version fixes some known issues with the media players, among other issues. The island has shed its winter weight and is now back to its natural tropical environment. We plan to get this update released very soon and you can read about all the contents of this update [here] (https://trello.com/c/3kp1p1xC/348-update-0404).
Tower Unite 0.4.0.4 Changes: Condo Settings Panel now doesn't require the "C" key to be held down, buttons were added to quickly switch from day to night, and moon angle / intensity settings were added.
New Artist
We've recently hired a new artist @JJosh to help make various items for condos. Be sure to stay on the lookout for new content from him.
Zombie Massacre
Zombie Massacre continues to be the main focus of the week, and many features and bugs have been fixed as we make progress.
Gameplay
Here's a little gameplay video of the current prototype of Zombie Massacre. This week's focus was on getting the HUD systems online, along with respawn systems, the point systems, and some more logic for the items.
Zombie Massacre Prototype Gameplay Video
HUD
One of the main focuses for @macdguy this week for Zombie Massacre was getting the player HUD working, so that players can see their points and progress throughout the game.
Zombie Massacre HUD without the Health Bar and Lives Panel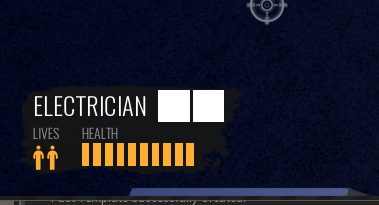 Zombie Massacre HUD Health Bar and Lives Panel
Models
@Wergulz has continued his work on the new zombie model, and while we don't have images of it just yet, @Matt completed his final render of the Guitar Weapon for Zombie Massacre. @Matt also started working on a model for the Radio Tower, so stay tuned in the next couple weeks when we have a photo to release.
Zombie Massacre Guitar Final Render #1
Zombie Massacre Guitar Final Render #2
Maps
@Lifeless has been working hard on the Gasoline map for Zombie Massacre, and has also started working on a new map named Compound.
Items
@Madmijk has been working on logic for the items available in Zombie Massacre. He tweaked some behavior with the Turret, and started working on prototypes for the Orbital Laser, Blade Trap, Healing Kit, and a weapon pickup item. Some of these items are visible in the gameplay video we posted above.
Music
Last but certainly not least for Zombie Massacre this week, @donglekumquat has been making some great progress on the music and is currently working on the Round 2 and Round 3 music.
Virus: Sci-Fi Handgun & Plasma Rifle
@Johanna created a final render of both the new Sci-Fi Handgun and the new Plasma Rifle for Virus. Both renders are taken in-game.
Sci-Fi Handgun Final Render: Top New / Bottom Old
Plasma Rifle Final Render: Top New / Bottom Old
Minigolf: Kingdom
@Johanna is back at it again with another amazing minigolf map for you all to enjoy. Based in the Kingdom of the Little Crusaders, this minigolf map will have you golfing through a castle, a market town, and the surrounding landscape in these 18 holes of fun! Stay tuned for future dev logs for photos as this map progresses in its development.
Minigolf: Kingdom | In-Development Photo #1
Minigolf: Kingdom | In-Development Photo #2
Minigolf: Kingdom | In-Development Photo #3
Minigolf: Kingdom | In-Development Photo #4
Tower Express
Announced quite a long time ago, @Caboose700 has felt it was time to start throwing time into making Tower Express! What is Tower Express you might ask? Tower Express will be a online website where you can buy items for your condo in Tower Unite, without having to load into the Plaza. You'll simply have to sign in with Steam, and start filling up that shopping cart. The site is being designed with the goal of providing a larger shopping cart than the Tower Unite currently supports, and allow bulk item selling.
While the core systems are close to completion, @Caboose700 has started working on a prototype of the layout of the website. None of the artwork is official as this was simply to test the layout.
Tower Express: Layout Prototype
Workshop
@Zak has been hammering away at some gritty details for the Steam Workshop integration. This week he worked on the Workshop Content Creator, which resulted in being able to import an animation from the character rig in Unreal Engine, for testing the animation binding feature in the Content Creator. He also had a meeting with @krionikal and @Wergulz to iron out some information about rigging and how it relates to the Workshop Integration.
First Person Hands
@krionikal has been working on the new hand model for the First Person viewpoint. He worked on the "texture" this week, experimented with sleeve sculpts, and started working on the low poly for the arms.
Wrap It Up
That about covers everything that happened this week at PixelTail Games. We'll see you all next week, and have a great weekend!