Weekly Dev Log for December 17th, 2018
Hello everyone, and welcome to the Weekly Dev Log for the week of December 17th, 2018. Here's what everyone was up to last week! Note: Devs that don't appear in the weekly log are not necessarily away or not doing work, but may be working on things currently not announced or backend work that doesn't need to be detailed.
Winter 2018! Update Released
Last week we released the Winter Update (0.6.5.0), which brought back the Winter Lobby, Winter Items and Characters, an improved Snowball Battle minigame, and more. You can read all about that update here.
Update 0.6.5.1 Progress
We've also started working the 0.6.5.1 update, which will come with some bug fixes and small improvements. You can read all about it here.
RC Progress
The continued work to create a firm RC car base resulted in the release of the RC Sleigh item for the Winter Update. With a strong RC car base, it's possible to create all sorts of RC vehicles and this base will be used heavily in the upcoming Accelerate Game World. Due to this, the RC Helicopter and RC Car items have been completed, and work is continuing on the RC Plane.
The RC Sleigh item also got a small improvement, the player's player model will now appear in the Sleigh, and the player has several options they can specify for how their sleigh is displayed. The user can pick to show just the Santa Catsack, the Santa Catsack and the player's Player Model, or Two Player Passengers (which allows other players to hop on the player's sleigh and ride along).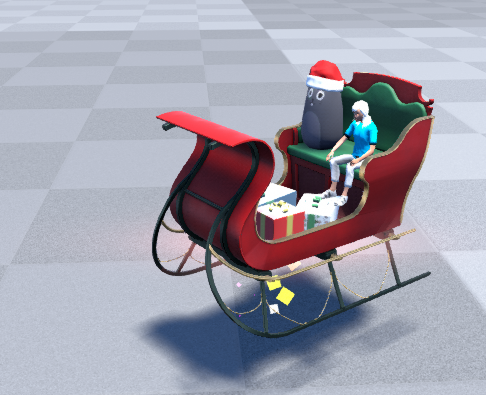 RC Sleigh: Player Model w/ Santa Catsack
Misc
@Lifeless and @Johanna continued working on Project 23.
@Caboose700 inserted 250+ paragraphs into the Typing Derby API.
Alex continued working on various emotes.
@Madmijk continued working on the Resort condo video.
@Sketchman continued working on the AGC.
Wrap It Up
That about covers everything that happened last week at PixelTail Games. Next week PixelTail Games will be observing the holidays, so the Weekly Dev Logs will resume again December 31st.