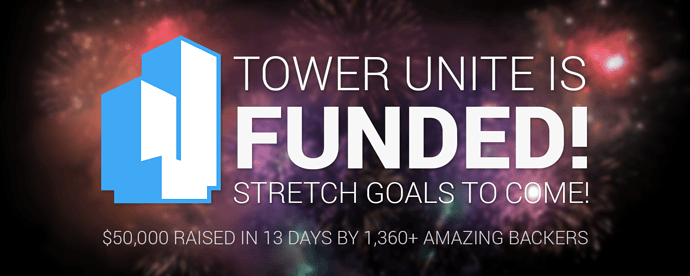 Many thanks to all of our 1,372+ backers! We are incredibly excited and pumped to bring you Tower Unite!
We here at PixelTail cannot begin to express how grateful we all are to finally have this opportunity to create our dream game!
Thanks to you, we can begin working on the best game we can make! We're going to put our all into it. The support and passion we received from our community was truly remarkable. It was a team effort, and we did it!
The last 13 days have been truly incredible for us as developers and as a community.
In just 13 days we…
gained 1,372+ wonderful backers
got greenlit on Steam (and had

#4

spot!)
raised an incredible amount of $50,000 towards the game
And if that wasn't enough, we still have 17 days left! We've unlocked the stretch goals so we can continue to make this game better.
Once again, thanks to all of you that shared your interest for Tower Unite. Together, you made it happen.
-PixelTail Games