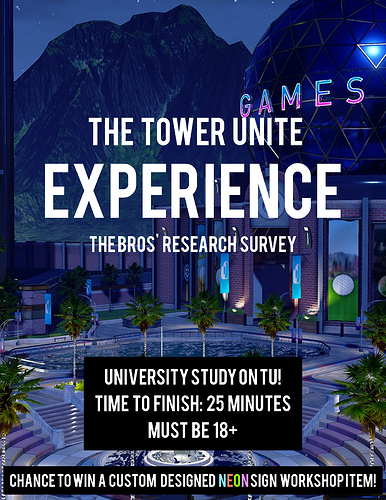 Hello all!
This is The Bros (I have a different forum name)! I'm currently doing a research paper that focuses on the different experiences that people get from social games, and I've chosen Tower Unite as a game to look into!
The survey will ask you questions about your experiences in Tower Unite, and also experiences in real life. This should take about 25 minutes to complete. All data and identities will be kept anonymous. Anyone over 18 is welcomed to take part in this survey!
The survey will close by Thursday, 11th April 2019, 3 PM EST.
Prize:
Participating in this survey will give you a chance to win a custom neon sign workshop item hand made by me!
The winner can pick any design to their liking, and I will make a sign out of that!
The winner will be randomly selected and I will PM the winner for more details
I'm considering making two neon signs for two winners
So if you love Tower Unite, please consider taking this survey and help spread the word! This would help me out so much. Please let me know if you have any questions or concerns. Thanks everybody!
Link: