I get a lot of questions from people asking how they might learn to program.
My response is always something along the lines of "Find something you want to do and go find what you need to do it".
But that response seems to put people off. They want a straightforward answer, something to do, something to try.
So today I'm vetting this site called "Code Academy". To see if it is a viable tool for learning a programming language.
It seems to work well enough, it presents you with the basic rules of the programming language, has you type a few statements, has you make some mistakes and has you correct them.
However, the thing that kind of upsets me about tools like these is that they kind of suck the fun out of programming.
You're stuck "Coding on the rails". The site tells you to do something, you type it in, you run the program. If the output isn't exact, you lose.
Which is really frustrating ( I had to comment out my code because it wasn't what they wanted )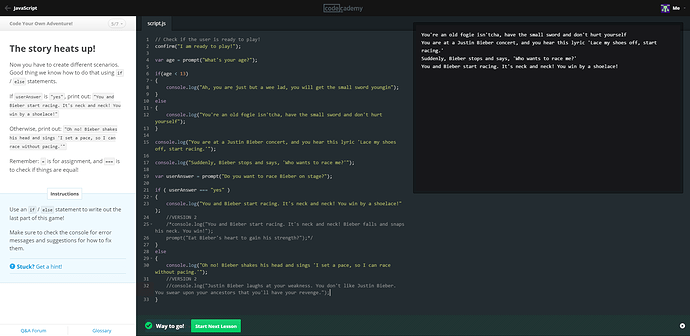 Programming is all about exercising control over the computer, that's what makes it so exciting. But now you're not in control, someone else is. You just do the typing.
I understand that for some, this is kind of the way it needs to be. They need a little bit of hand holding to figure the thing out. But the question is, will it get boring for them? Will they lose sight of what is really interesting, what they are really accomplishing?
Because at the end of the day, you're telling a computer what to do, and it does it for you!
That fact alone is amazing, and tools like Code Academy seem to hide or downplay this concept.
I'll continue playing with this though, maybe they change things up, loosen the reigns a bit.
We'll see.