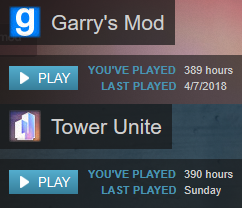 I officially have more hours logged in Tower Unite than I do in Garry's Mod.
Is this a sign that gmod is … dead?
Considering the fact that most of these hours playing gmod were in fact from GMod Tower, I kind of have no more reason to play Garry's Mod. Yet, I still keep it installed, even though the file size (including the game and all of my Steam Workshop subscription downloads) is at…

This is the largest file size for any single item in my entire hard drive.
This is just a weird time for me, a shift from my younger self. First it was Minecraft, then Garry's Mod, now Tower Unite. All three of these games are still installed on my hard drive. And I don't know why, but Second Life and VRChat just never appealed to me. I have never owned a PS3, so PlayStation Home wasn't an option, even though it was a carbon copy of GMod Tower, just for consoles. GMod Tower felt something special to me, like it was a whole new experience, but still felt familiar at the same time. Now that the servers have been shut down, Tower Unite somewhat fills that gap. But, since it runs on Unreal Engine 4 and not the Source Engine, it's not familiar, and doesn't spark that special feeling that I had when playing GMod Tower. Nevertheless, not 100% of my 389 hours playing Garry's Mod was spent playing GMod Tower. I also enjoyed Sandbox, Prop Hunt, Hide & Seek, Guess Who and PvP. But Tower Unite is now my go-to Steam game, but I still enjoy other classics in my library.