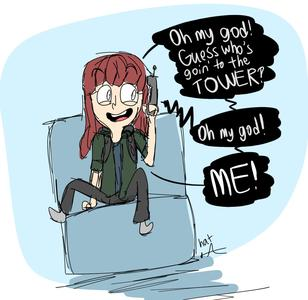 My name is Hatbeemo, or Hat for short. I played the original GMod Tower a long long time ago, and now I'm in the process of downloading the new Tower Unite!
It's all so EXCITING! What will I do in the Plaza? What minigames can I play? What secrets will I find? How will I decorate my condo? My avatar? Oh my god!
I even drew something to help contain this excitement. I love drawing characters and cartoons as a hobby, and perhaps you'll even see new art by me in the forum soon!
Thank you for reading, I can't wait to join the community!
~Hat
P.S. This is the second time I made this post. The first post was before I became a Basic and is stuck in approval limbo!