We need to nail down crashes!
When the game crashes, most times it'll generate a minidump.
These minidumps allow us to dive into the stack trace to determine when and how your game crashed.
This allows us to fix bugs, and fixing bugs is good!
Minidumps are stored in: %localappdata%\Tower\Saved\Crashes
If you're playing Tower Unite on Linux using Steam Play:
~/.steam/steam/steamapps/compatdata/394690/pfx/drive_c/users/steamuser/Local Settings/Application Data/Tower/Saved/Crashes
You can easily get to that folder by going to the Run Window (Win+R) and inserting
%LOCALAPPDATA%\Tower\Saved\Crashes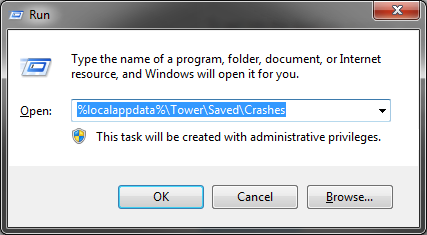 If your game has recently crashed you should see a folder in there that looks something like this:
"UE4CC-Windows–3B5F1F3F4B1B44DA979277939BFD6D0B_0000"
If you have that folder ("UE4CC-Windows- …"), your game has crashed and has emitted a minidump!
---
Now that you have this minidump:
Create a topic in this category. The topic title must include the version number of the game.
Tell us in the title of the topic what you were doing when the crash occurred.
Upload a zip archive containing the UE4CC folder and add it to your post. We suggest using https://mega.nz for your upload.