I love the Halloween event in Tower Unite. It's one of the main things I look forward to every year and I was very happy with the attention it got last year. I have a few ideas and concepts about things that could be added to the game in the future.
Halloween Achievements/Milestones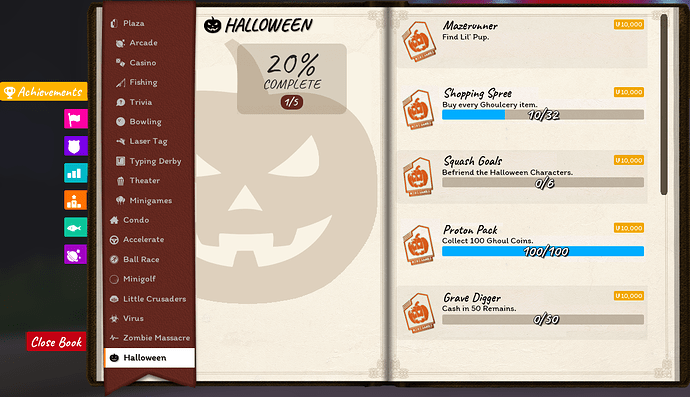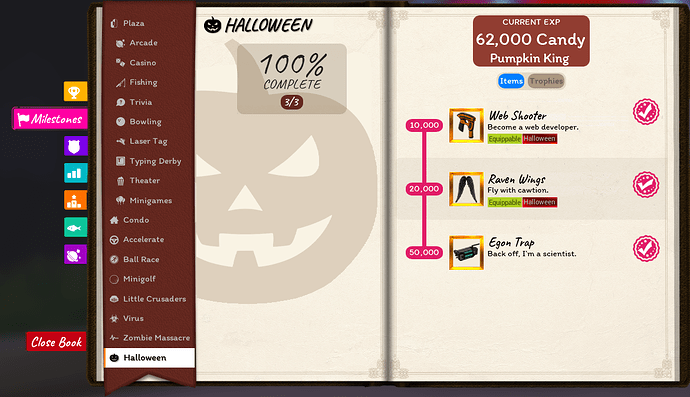 I love the idea of having a limited time section in the collection book for holiday events. It would give a ton of extra goals to complete before the event ends and would keep players returning to the game.
Achievements could give large rewards which would boost player currency during the event (another reason for players to stay online). Milestones could be added every year to keep the list expanding for new and returning players, meaning items wouldn't be limited time and would still stay fresh.
The achievements/milestones in the images don't necessarily represent what I think should be added to the game and are just filler for the concept images.
Candy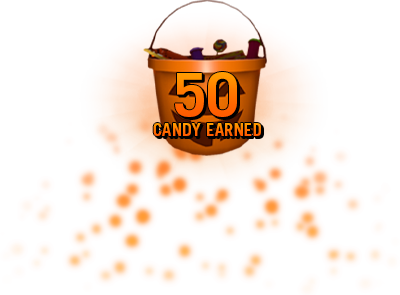 Halloween milestones could be achieved by gaining Candy instead of EXP, which would level up your Halloween milestones.
It would act functionally the same as EXP but could be given to you when participating in Halloween events, talking to NPCs, buying items from The Ghoulcery, or visiting condos (trick or treating).
This idea definitely has a lot of room to be fleshed out and I'd love to hear some ideas in the replies.
Quest System

I loved the maze quest we got for the Halloween 2019 update. I'd really love to see this expanded upon. Halloween themed quests would be great, but even things like Sir Reel asking you to catch specific fish or Daisy asking you to take nature photographs would be a ton of fun to complete.
Wrap Up
Those are some of the suggestions I came up with for future Halloween events, but I'd love to see more ideas or additions to mine in the replies. Thanks for reading!