When joining my condo solo and waiting for the workshop assets to all load, it stops at a certain asset and freezes the game completely. I have around 200 workshop models including NPC's and I have tried clearing the workshop cache and verifying the game files.
I then found that turning off workshop item shadows allowed the game to download more assets, but then spit out a Ran out of texture memory error and closed when trying to download the workshop assets again.
I have a Nvidia 1060 6GB which I thought would be more than enough to run this game and I've made sure that I'm only using 4GB of memory on the graphics menu to stop this from happening, as I became unable to join the arcade with texture on ultra high as the same texture memory error would show up recently as well, even though I'm certain I'd been running it on that for a short while before hand as a test. I'm not really sure what's up here as I've been able to join my condo fine before this month, I've not changed any hardware on my pc. Could my GPU be on it's way out or something?
Steps to Reproduce
Join Condo with workshop assets
Wait for condo to load assets
Game freezes/crashes/runs out of memory
What I expected to happen
For all assets to load in after wating a duration of time and for the game to not freeze or give me a error messege about memory.
What happened
I cannot feasibly join my condo anymore as it freezes everytime regardless of my troubleshooting.
---
Notes / Media


VRAM usage in my settings.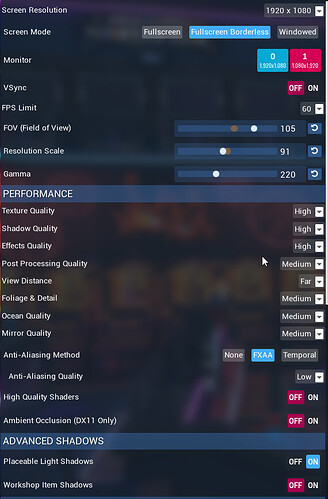 My other general settings.